Online bookselling in the time of COVID
Bookshop's CEO on challenges and growth amidst a pandemic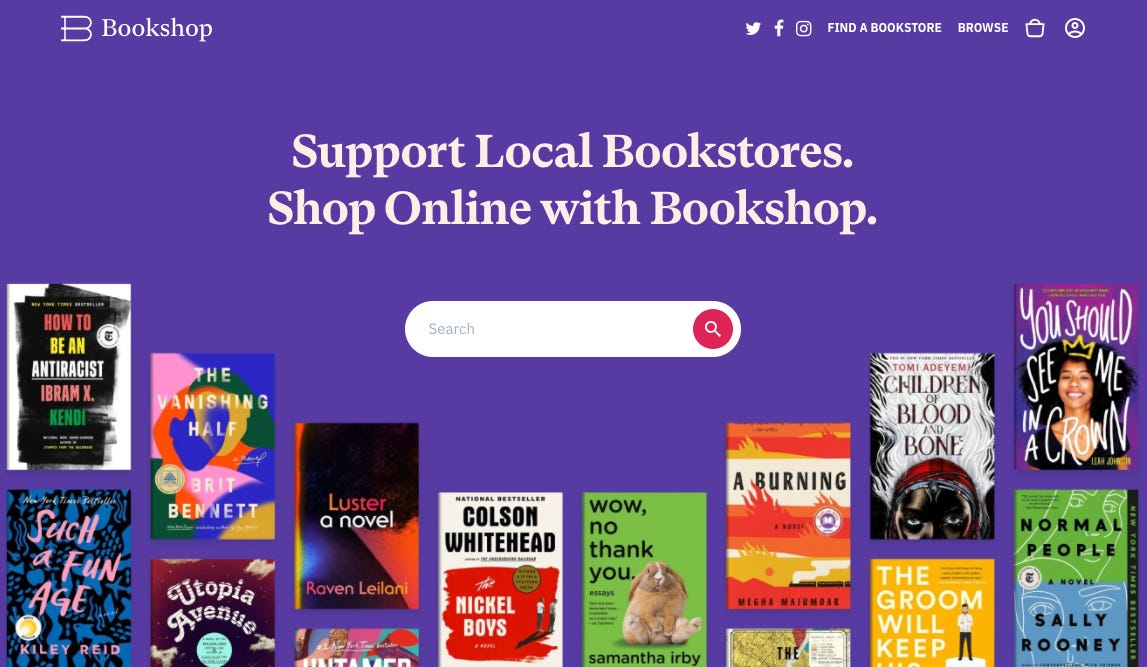 Since 1994, if you wanted to buy a book online, there's a good chance that you'd do so from one place: Amazon.com. Jeff Bezos' company started out as an online bookstore, but in the years since its founding, it's expanded far beyond the bookshelf to everything from home goods, groceries, and original entertainment.
The impact that Amazon has had on the bookselling industry has been immeasurable. Certainly, it's expanded easy access to books for millions of people, and provides opportunities for authors to publish their works through its Kindle ecosystem. But it's also had a devastating impact on the world of bookselling: its dominance in the online marketplace was likely a factor in the demise of Borders in 2011, and for Barnes & Noble's continued troubles. Indie bookstores have had a more mixed record: Amazon has certainly pulled away potential customers because of the convenience and prices that it can offer, but indie bookstores have been doing okay, despite those conditions. But outside of Amazon, online bookselling has been a patchwork thing: you can sometimes buy directly from publishers or from individual bookstores, but the process could be tricky.
Enter Bookshop.org.
For the last couple of months, I've been shopping from the site, which is designed to help indie bookstores compete against the likes of Amazon. It's sleeker and far less clunky than its predecessor IndieBound or individual bookstore sites, and the overall buying experience is far less painful for customers, especially if they can't make it out to a local indie store in their area.
The site launched just ahead of the COVID-19 pandemic, coming right at a time when most indie bookstores were put in a perilous position as foot traffic went over a cliff. The site is supports indie bookstores in a couple of ways: stores can be part of an earnings pool, in which they get some money from the site, or they can get money through an affiliate program. The company is a B-Corp, and says that it gives away 75% of its profits to "stores, publications, authors, and others who make up the thriving, inspirational culture around books. I'm one of them: this newsletter uses affiliate links through Bookshop.org.
The pandemic seems to have been good for business: according to a report in The New York Times back in June, the site has done more than $40 million in business, and according to a ticker on the front page of the site, it's raised just north of $6 million for local bookstores. It's a good idea, and I see a lot of authors starting to use Bookshop.org links (or use it first) when they encourage people to buy their books.
But there are pain points, both inside and outside the company's control. In June, I ordered a copy of Silvia Moreno-Garcia's Mexican Gothic, and waited for several weeks for the book to actually show up. The delay coincided with the political problems that the US Postal Service has faced this year, resulting in some pretty long delays. That's an irritating problem, one that Bookshop CEO Andy Hunter is certainly aware of.
"USPS is experiencing delays and sometimes packages are not being scanned, making them hard to track," Hunter explained via an email. "We've seen an uptick in lost packages, though 98% still arrive just fine. Shipments have been delayed across the board."
Furthermore, there are other safety-related shipping delays, which the company notes in a disclaimer when you order: a 72 hour shipping delay at the warehouse. Shipping a book faster means that it'll cost more.
Given that Amazon can ship a book to you within hours of your order, that's a difficult hill to climb up against, especially for a new company and for customers that are sitting at home, waiting to come back out again.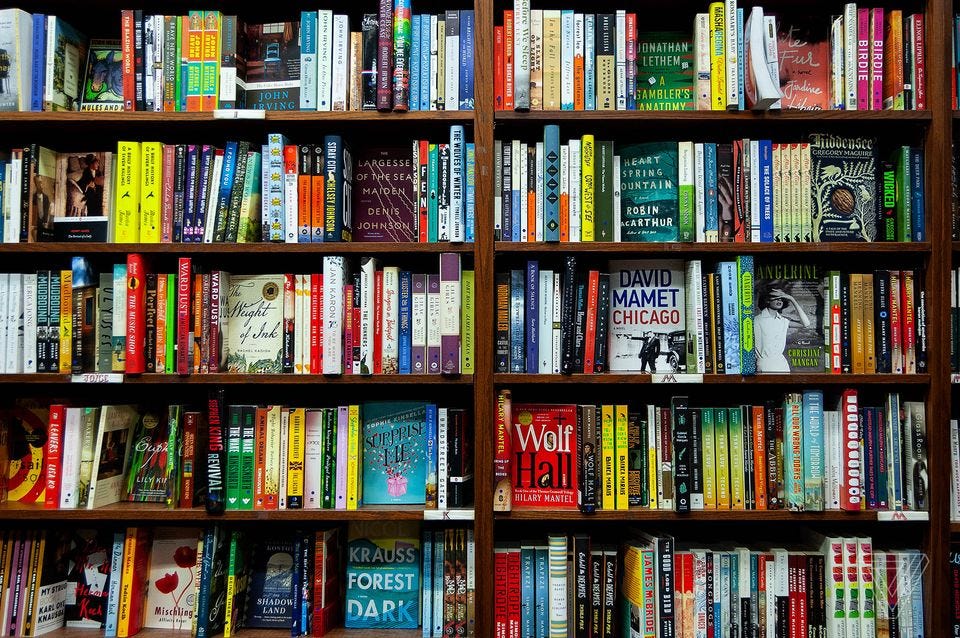 In other instances, throughout this spring, it's been hard to get books in hand: titles like Mexican Gothic sold out quickly, and more than once, I've placed affiliate links into pieces where books were backordered.
This again comes from the massive disruption that was the COVID-19 pandemic, Hunter says, and it wasn't an issue limited to just his site: it was felt across the bookselling industry. "Publishers are grappling with backed-up printers and slow delivery times, which cascades down to us," he says. "Very popular books, like the anti-racist books that surged in June/July, had availability problems across the industry, even at Amazon."
Last week, The New York Times painted a clear picture of just what publishers and booksellers are facing: a bottleneck with the places that produce the books themselves: printers. Publishers opted to delay books that were set to come out this spring and summer, moving them to the fall. Despite that delay, the dire state of the actual printing industry has come to bear: many have struggled financially in recent years, and closures have limited their capacity.
"The two largest printing companies in the United States, Quad and LSC Communications, have been under intense financial strain, a situation that has grown worse during the pandemic. LSC declared bankruptcy in April, and the company's sales fell nearly 40 percent in the fiscal quarter that ended June 30, a drop that the company attributed partly to the closure of retailers during the pandemic and the steep fall of educational book sales."
That, the Times reports, means that a popular book that sells out its initial run and has to be reprinted — like Moreno-Garcia's Mexican Gothic, will take longer to produce and end up on store shelves.
There are other problems that the site needs to tackle, however, primarily around where Amazon has cornered the market: discoverability and searchability. Searching for books is incredibly hit-or-miss.
Here's one example: searching for August Cole and P.W. Singer's novel Burn-In yields the following results: A Burning, by Megha Majumdar, Burn for Burn by Siobhan Vivian and Jenny Han, Burn by Patrick Ness, Burn After Writing by Sharon Jones, The Burn by Kathleen Kent, Aurora Burning by Amie Kaufman and Jay Kristoff, The Burning by Laura Bates… you get the picture.
Searching by the author's names is also fruitless: August Cole churns up a number of authors / book titles with the words August and Cole in it, while the same thing happens with P.W. Singer. Burn-In is actually available on the site, but to find it, you have to search for Ghost Fleet, their first novel (which comes up on the first hit), then click on either of their names.
Hunter admits that this is still a problem that they're working on. "We've improved search since we launched," he says, "but there is still more to be done. There are 16 million titles, and they are indexed both by word match, topic, and desire score (based on historical sales)."
In the instance of Burn-In, he says, searching for the full title of the novel (Burn-In: A Novel of the Real Robotic Revolution) will bring it up first on the search page, but those other factors will push it down to the second page. "I agree [that] search and discoverability can be better," he says, "and it will be; we are constantly iterating and improving our site."
Collectively, these problems are cones in the road. You can get past them, but they slow you down, and after enough mounting frustrations, you just opt to take another route.
The elephant in the room here is Amazon and the head start that it's made for itself over the course of its life: it's had a lot of time to really perfect its product search, shipping, and response times. Ultimately, this is a challenge that's solved by infrastructure and building it up. Amazon might have started out as a bookstore — and still moves plenty of books — but it's contributions to the online shopping world is focusing on how to best connect people with the things that they want to spend money on, and extract that money in as painless a way as possible.
Contrast this picture with how your local indie bookstore operates: they're smaller operations and generally aren't focused on the web operations. These stores are in a bit of a bind, especially in the midst of a pandemic, given that they're trying to fulfill two different models: internet shopping (which became essential to remain open) and in-person operations. I used to work for an indie bookstore, and while I love it, their website is and was a clunky affair that had to be fiddled with constantly. The state of the website comes down to attention: the store's staff and leadership are more focused on their physical customers and local community.
This is where Bookshop takes some of the pressure off of booksellers, in that you can simply set up your own storefront and take a commission off of what customers order — if you just want to throw up your hands and let someone else deal with the internet stuff. Will Bookshop supplant Amazon? I highly doubt it, but I don't think that it's really meant to: it's a site that exists to help bridge that gap between the convenience of online shopping and a reader's connection to their local bookstore.
And it's not going anywhere anytime soon: Hunter says that they're working on adding a number of products in the near future as the holiday season looks: gift wrapping, personalized messages, and gift cards. "We want to make the site more robust for our affiliates and bookstore partners, helping them be as successful as possible using the platform."
Additionally, he says that they've been working to expand the team behind the site, because it had grown so quickly. "This summer it was a scramble as we hired and trained a customer service team of 22 people and implemented new software and systems so we can promptly respond to any issues." By the middle of August, they were finally able to clear their back log and come up to a 24-hour turnaround for complaints, questions, or refunds.
Long-term, there's more that they're hoping to do: "We will add more community features, like reviews and discussion," he says. "We will also work on site speed and creating a wonderful user experience for book lovers. Ultimately we want to draw enough customers away from Amazon to help change the financials of independent bookselling, making it a bit easier for small stores with limited resources to compete and be sustainable in the digital age."
---
In case you missed it, I wrote earlier this week about how Liu Cixin's Three-Body Problem is coming to Netflix (I've also cleaned up a bit of the text: after re-reading it to practice recording, I found a couple of face palm-worthy errors). I also released the September book list: if you're looking for something interesting to read, there are plenty coming out in the month ahead.
As always, thanks for reading!
Andrew