Discover more from Transfer Orbit
A newsletter about science fiction and the future
Over 1,000 subscribers
Liu Cixin's Three-Body Problem is coming to Netflix
From the creators of Game of Thrones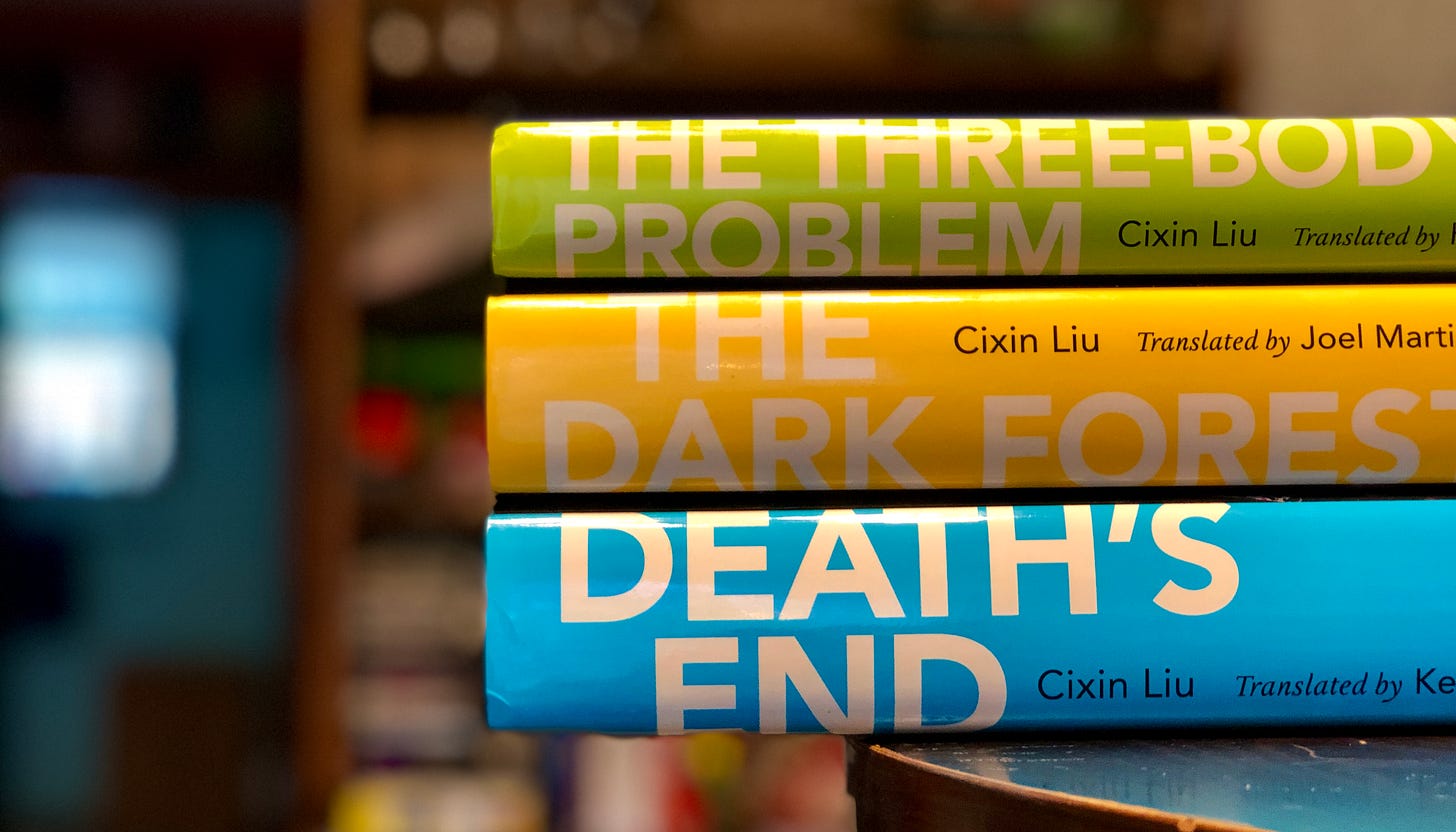 A bit of cool news came through this morning: Netflix is adapting Liu Cixin's epic science fiction trilogy The Remembrance of Earth's Past — The Three-Body Problem, The Dark Forest, and Death's End, with a powerhouse team behind it: David Benioff and D.B. Weiss, the pair of creators behind HBO's Game of Thrones, as well as producers Rian Johnson (director of Star Wars: The Last Jedi and Knives Out) and partner Ram Bergman, and Alexander Woo (The Terror: Infamy, True Blood). Ken Liu (who translated The-Three-Body Problem and Death's End) and Liu Cixin, will also serve as consulting producers.
Woo. This is a huge bit of news that's been a long time coming, and it bears a bit of unpacking to get a better picture of what it means.
---
Space Epic
Tor Books acquired Liu's Remembrance of Earth's Past trilogy in 2013, marking the first time that a Chinese science fiction novel would be translated into English. The trilogy begins in the midst of the Chinese Cultural Revolution as an astrophysicist watches as her father is killed by Red Guards. She's sent off to a forced labor camp in Mongolia, and is later brought to an experimental science station, where she can put her skills to work as a scientist. While there, she discovers that she can use the sun to amplify radio waves, and sends a message into deep space.
Eight years later, she receives a reply, with a warning: do not contact us again; we're a danger to you. It turns out that there's an alien civilization that's located on a planet, Trisolaris, about four light years away, orbiting a three-star system. Its unpredictable orbit means that life on the planet is brutal, and the Trisolarans are eager to find a more stable place to live, and if Ye replies, they'll be able to locate Earth. Ye, angry at her situation and the state of the Cultural Revolution, replies to the message.
Fast forward 40 years, and the Trisolarans are on their way. Because of the distance, it'll take them 450 years to reach Earth, but they've begun to lay the groundwork for their invasion, dispatching a couple of sophons — advanced, multi-dimensional supercomputers — which can spy on humanity and stymie Earth's technological advancement by interrupting physics research. With some human allies, they set up a video game to work and recruit more followers, to better prepare for their arrival.
The plot is interrupted when a number of scientists — believing that reality isn't what it seems — complete suicide, bringing in a police investigation, who eventually uncover the impending invasion.
That's just the first book. The Dark Forest, translated by Joel Martinsen, deals with the impending Trisolaran invasion and Earth's efforts to prepare and resist it, while Death's End deals with the invasion and an even greater interstellar conflict that literally goes to the heat death of the universe. There's a lot there, and I have an overview of the trilogy here. Plus, there's Baoshu's The Redemption of Time, a fan-written work that plugs in a couple of holes in Death's End.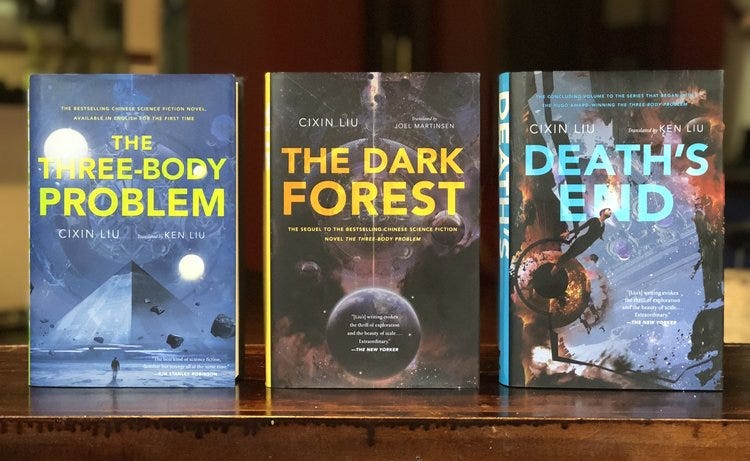 The trilogy was incredibly successful in China before it came to the US — with a huge fandom that produced their own fan fiction. After it was published in 2014, The Three-Body Problem earned a Hugo Award in 2015, and was hailed by people like Facebook's Mark Zuckerberg and President Barack Obama.
The stuff I read just to escape ends up being a mix of things — some science fiction. For a while, there was a three-volume science-fiction novel, the "Three-Body Problem" series which was just wildly imaginative, really interesting. It wasn't so much sort of character studies as it was just this sweeping —

It's really about the fate of the universe.

Exactly. The scope of it was immense. So that was fun to read, partly because my day-to-day problems with Congress seem fairly petty — not something to worry about. Aliens are about to invade.
As an aside: when a blurb from the President of the United States graces the cover of your novel, you can safely assume that science fiction has gone mainstream. Ahem.
---
Chinese SF
The Three-Body Problem did something interesting: it galvanized interest in the Chinese strand of the genre, which up until that point, had been walled off by a translation barrier. Getting works to China had been a thing that had happened over the years (here's a larger overview of the history of Chinese SF that I wrote for Barnes & Noble a couple of years ago), but getting it to come back was tricky.
In the case of Cixin's work, companies like StoryCom had commissioned the translations with the hope that they would find a market in the United States. Since then, other novels and short stories have made their way to English. Magazines like Clarkesworld and Future Science Fiction made a real effort to bring in translated stories, while Tor has since published Cixin's Ball Lightning and Supernova Era, and a new collection Hold up the Sky is coming later this fall. Cixin's success has led to other translations, like Hao Jingfang's Vagabonds.
Science fiction has gotten bigger in China in recent years — The country also had its first big SF hit last year: an adaptation of Cixin's The Wandering Earth, and there was an attempt to host an upcoming World Science Fiction Convention recently, while the Chinese government has recently begun to encourage its film industry to invest more heavily in science fiction stories — so long as they adhere to Xi Jinping's messaging.
---
Adapting
Three-Body
Given the wild success of The Three-Body Problem, there's been considerable interest in producing an adaptation. Over in China, that actually happened once already, with an adaptation helmed by Zhang Fanfan, only for the entire project to be shelved after the production ended. From what I've heard from knowledgable people, the final product was… not great. That film seems to have been part of a larger film deal for Liu, but from which only The Wandering Earth has actually been made.
Two years ago, the Financial Times reported that there was renewed interest in an adaptation of the trilogy, this time from Amazon, which had been beefing up its original content offerings for its streaming service, Prime Video. That deal seems to have never really gone anywhere, with YooZoo Pictures denying that they'd sell off the rights. In China, there have been a couple of other adaptations: one that's animated in the style of Minecraft, another anime-style animated series, and a live-action series. Now, Netflix has made a deal with YooZoo and Three-Body Universe for the rights.
Certainly, there's considerable interest in China in a series, and reading the books, it's not hard to understand why: the novels present a global vision for the future of humanity, one that Cixin has told me is intended to transcend borders and local politics. It looks at history in huge swaths of time and space, with big Ideas and even bigger Machines at our disposal. The comparisons to Arthur C. Clarke is apt.
All in all, there are ingredients here that are primed for the present world of original television: streaming services. If you've been paying attention in the last couple of years (or this newsletter) you'll have noticed that companies like Amazon Prime Video, Apple TV+, Disney+, Hulu, Netflix, and others are well suited for a project of this nature: a huge, sprawling story that requires considerable investment to undertake, all with the aim of bringing in new subscribers.
I'm not hugely surprised that Netflix has picked up the rights to the trilogy: it saw the success of The Wandering Earth (which became a major hit in China), and snapped it up for its platform last year. It's a global drama, and even if it adapts the first book, it'll be a weighty series.
---
Benioff and Weiss
This brings us to David Benioff and Dan Weiss, who rose to fame by adapting George R.R. Martin's epic fantasy series for HBO: Game of Thrones. Martin had famously written the series as a fuck you to the television world after being told no too many times. If he couldn't have giant armies marching across a fictional world, he'd create it anyway — in book form. The novels are dense, sprawling, and long, making them a challenge to adapt at the best of times. When HBO debuted the series in 2011, it was a major mainstream hit that made Martin and Westeros a household name.
Benioff and Weiss largely did a good job with the series and earned considerable critical acclaim — until they squandered much of that goodwill with a lackluster final two seasons that extrapolated what Martin was planning to do with his final two as-of-yet-unwritten novels. Despite that, with Game of Thrones over, they could pretty much write their own ticket, and every major streaming service was looking to sign an overall deal with them, something that Netflix did to the tune of $200 million.
That overall deal means that they'd work for Netflix creating new shows and movies. (Among other things, it prompted them to drop a planned Star Wars trilogy). Interestingly, their first project for Netflix was a standup special with former SNL star Leslie Jones, while they're also working on a series with Amanda Peet, The Chair.
The Three-Body Problem feels more like a fitting followup to Game of Thrones: it's a dense, complicated story that stretches from the 1960s to the heat death of the universe. The first book alone contains plenty of material for a couple of seasons of high-concept television, and if Netflix lets them get beyond two seasons and into the other novels of the trilogy, there's a lot of ground to cover. Cixin covers a lot of territory in the books, as well as some heady topics and some visuals that I'll be really interested in seeing. Those of you who read The Dark Forest and Death's End know what I'm talking about.
The pair highlighted the trilogy's ambitions in their own statements:
Liu Cixin's trilogy is the most ambitious science-fiction series we've read, taking readers on a journey from the 1960s until the end of time, from life on our pale blue dot to the distant fringes of the universe. We look forward to spending the next years of our lives bringing this to life for audiences around the world."
For Netflix, Three-Body seems like an ideal potential franchise, something that they can spin out for a number of seasons like they have with Stranger Things (which will probably end within another couple of seasons). The company has been spending a lot of money on its catalog of original content, and with Disney setting up The Mandalorian/Obi-Wan/Cassian Andor (and let's be honest — probably a whole bunch of other Star Wars shows), Amazon pulling in Lord of the Rings, Apple adapting Foundation, and HBO Max taking on Dune, Netflix is going to want to have something to compete with. Three-Body feels like an ideal project to take that on.
---
Thanks for putting up with me in your inbox twice today. This particular trilogy is something that's near and dear to my heart, and it's something that I've been hoping would be adapted at some point in the near future.
Andrew