22 science fiction and fantasy books to check out this September
Fantastical worlds, climate disasters, and the origins of a Star Wars legend
Thank you for signing up for Reading List! This newsletter is a regular column on the world of science fiction and fantasy. If you like what you read, please consider signing up as a paid subscriber and sharing this newsletter with a friend.
---
Hello!
It's hard to believe that it's September already. Time flies when you're… stuck at home and time has no meaning, I guess?
I've been in a bit of a reading rut in recent weeks, but one book that I've been enjoying is The Human Cosmos: Civilization and the Stars by Jo Marchant. It's out today, and Marchant takes a slightly different tack on the history of astronomy: she looks at not how humanity discovered the stars and planets, but how it impacted our development as a civilization. It's an excellent example of multidisciplinary history, looking at archeology, science, mathematics, and of course, astronomy. I highly recommend it.
If you're looking for other books coming out this month, here are 22 science fiction and fantasy ones hitting stores that you should check out.
As always, links are affiliates and purchases might lead to a small commission for this newsletter.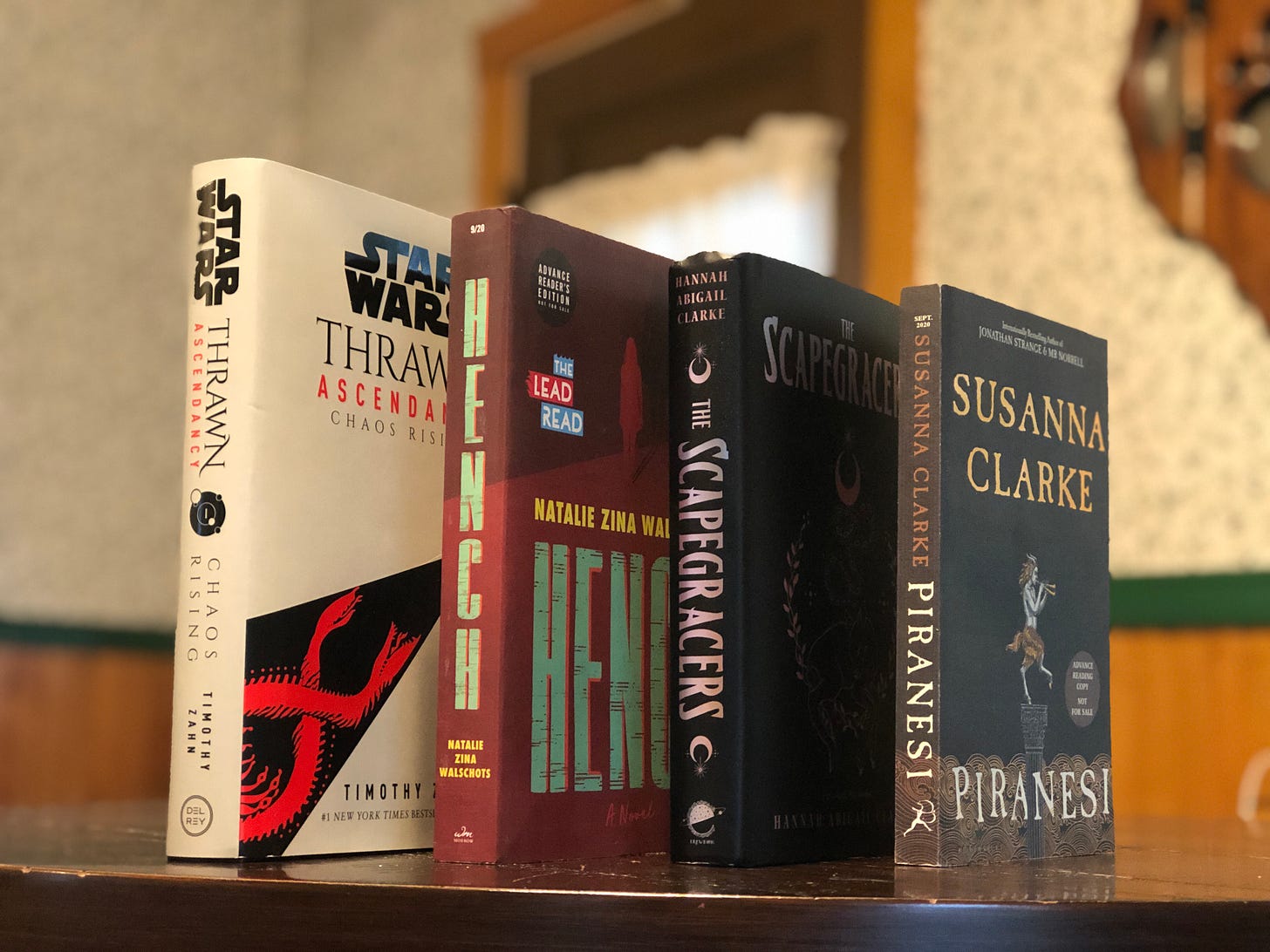 ---
September 1st
Magicians author Lev Grossman makes his middle grade debut with The Silver Arrow, in which Kate and her younger brother Tom find their dull childhoods upended by their Uncle Herbert, who brings a locomotive to Kate for her 11th birthday. The train takes them off to unexpected, magical lands along with its crew of talking animals. Along the way, they begin to recognize that something isn't right with the world, and have to make it right.
Kirkus Reviews gave the book a starred review, saying that it's "both cozy and inspiring, this eco-fable conveys both grim truths and a defiant call to action."
Read an excerpt here and here.  
Stephen Graham Jones's next book is a horror story about a teen prank that goes wrong called Night of the Mannequins. Teenager Sawyer Grimes puts said mannequin in a movie theater, only to see it walk out on its own.
I own three mannequins for my armor, and they're perfect fodder for a horror story. Publishers Weekly says that it "puts a clever modern twist on a classic monster story."
Climate change has become a major topic for literature (inside of science fiction and out). In his new book, geologist James Lawrence Powell takes a fictional look at what might be ahead of us in just a couple of decades.
The Earth's climate is changing more drastically than predicted by 2084, and through a series of interviews with scientists and political leaders, he imagines what the result might look like. The result is not just natural disasters, but political and economic crises that erupts the world into warfare and totalitarianism.
I really dig these sorts of "applied science fiction" narratives, and Publishers Weekly says that "Powell lays out an intriguing level of detail about the cascading effects of climate change."
Listen to an excerpt:
Climate change and societal collapse leave plenty of desperate people in Alison Stine's new novel, and a woman named Wylodine has been trying to make a living growing marijuana on her family's farm. She flees to Appalachian Ohio, where she encounters violent cults and discovers that she has a particular skill: she can make things grow, something that puts a target on her back.
Library Journal gives the book a starred review, saying that "readers searching for a novel fueled by fierce intelligence and empathy will find here a celebration of humanity, and a warning against its loss."
Read an excerpt.
Timothy Zahn's most famous creation is undoubtably Grand Admiral Thrawn. Introduced in 1991's Heir to the Empire, the character survived Disney's decanonization of the Expanded Universe and was brought back into the story via Star Wars Rebels and a trilogy of new novels from Zahn in the last couple of years. (Here's an interview I did a couple of years ago.)
Now, Zahn is embarking on a new trilogy about Thrawn, sending readers off to the Unknown Regions in this prequel. The Chiss Ascendency has maintained a steady hand throughout their sector of space, and face an unexpected attack. The Ascendency sends out a young military officer to investigate, and discovers a growing threat to his home.
Read an excerpt here, here, and here.
---
September 8th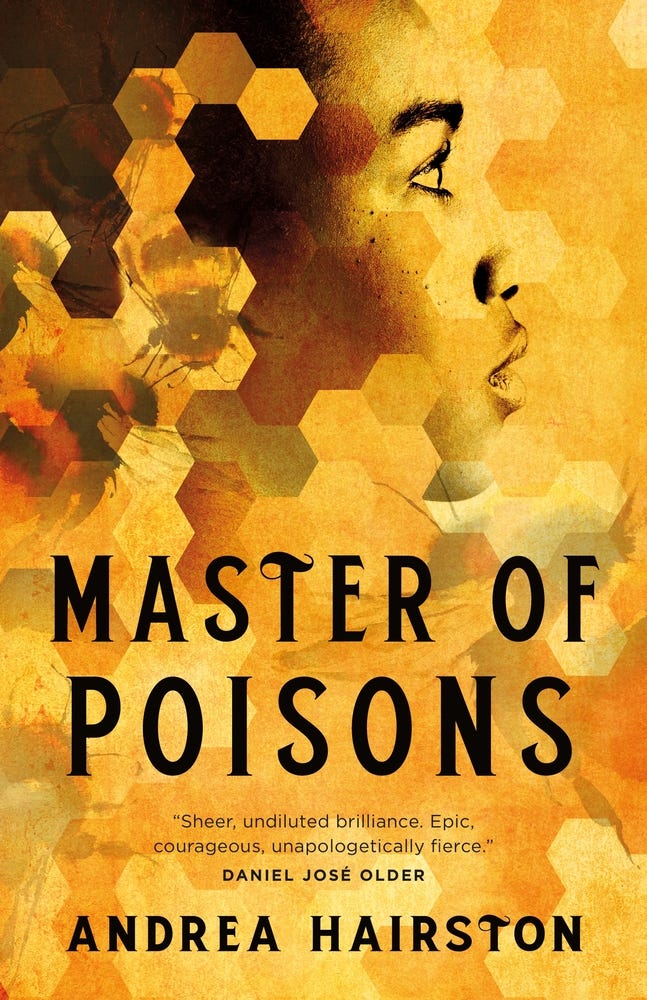 In Andrea Hairston's fantasy world, Arkhysian Empire is being overtaken by a vast, poisonous desert, rendering the land uninhabitable. Djola, the exiled spymaster and assistant to the lord of the Empire, has been trying to save his homeland, while a young woman named Awa trains to be a griot in an uncertain world.
Publishers Weekly gave the book a starred review, saying that "Hairston weaves a rich tapestry of folklore and adventure, inviting readers into a well-developed, non-Western fantasy world, while navigating pressing issues of climate change and personal responsibility."
Read an excerpt.
Saga Press is relaunching the Year's Best Science Fiction anthology series, which Gardner Dozois had run for decades. Venerable editor Jonathan Strahan, who edited "The Best Science Fiction and Fantasy of the Year" from 2007 to 2019 picks up this new series and features an excellent lineup of notable authors, including Charlie Jane Anders, Karin Tidbeck, Malka Older, Peter Watts, Elizabeth Bear, N.K. Jemisin, Ken Liu, and more. Most importantly, he picks up from Dozois by writing out a notable history of the year in SF/F, which has made the Year's Best series essential.
Valerie Valdes released her debut novel Chilling Effect last year, which followed the crew of a spaceship who have to raise a ransom when the sister of the ship's captain is kidnapped by criminals. In this sequel, Captain Eva and the crew of the La Sirena Negra find themselves in trouble once again as they work to locate a missing scientist with the promise of a big payoff.
---
September 15th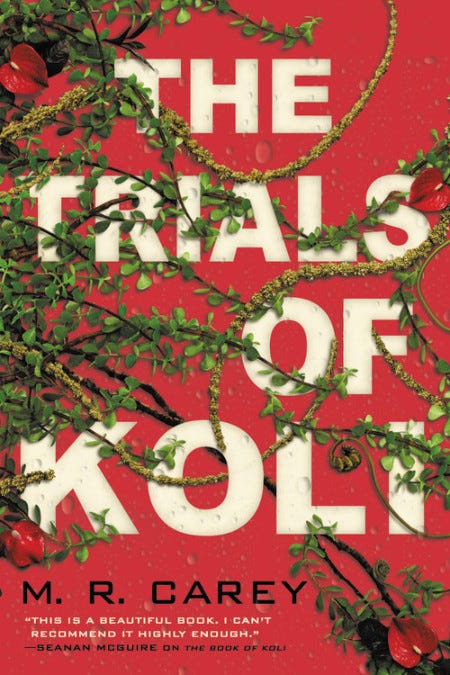 Earlier this year, M.R. Carey kicked off a new trilogy, set in a future where deadly forests have overtaken life on Earth. A boy named Koli discovers a piece of ancient technology — a music player with an AI inside, and the knowledge that he gains threatens to tear his community apart.
In this sequel, Koli leaves his village, exiled, and has to survive in the forests beyond the walls. Other villages have begun dying, and going off of old stories, he works to find the ancient ruins of London, to try and save those who are left.
Read an excerpt.
Sideways Pike is an outcast at West High. She's a lesbian witch who's constantly the outsider, but when three of her school's more popular girls pay her to cast a spell, she finds herself enjoying newfound popularity, and all the danger that includes. The four create their own coven, and try to enjoy themselves, even as witch hunters close in looking to steal their magic.
Kirkus Reviews gave the book a starred review, saying that its "bitingly honest, fast-paced dialogue is a solid strength, as is the lyrical language, which is so intimate that readers will viscerally know how magic and emotions feel in Sideways' body.
Piranesi
by Susanna Clarke
Susanna Clarke is best known for her phenomenal fantasy novel Jonathan Strange & Mr. Norrell, about two magicians in the midst of the Napoleonic Wars. That novel came out in 2004, and it's been 16 years until her next novel, Piranesi.
The book isn't a long-rumored companion to Jonathan Strange & Mr. Norrell, but a standalone. A man named Piranesi lives in a strange house that has endless rooms and corridors, which he's spent his life exploring. He has only one companion, The Other, who he helped with some research. But as he explores, it seems as though there's another inhabitant, and Piranesi begins to understand that the world is not as he thought it was.
Kirkus Reviews gave the book a starred review, saying that it's "weird and haunting and excellent.
Read an excerpt.
Christopher Paolini burst on to the fantasy scene with his fantasy novel Eragon and its sequels Eldest, Brisingr and Inheritance, and now turns to science fiction with To Sleep in a Sea of Stars. Xenobiologist Kira Navárez discovers an ancient, alien relic on a distant world, and when she touches it, an alien suit takes over her body. She has to figure out how to control the ancient alien technology, before it threatens all of humanity.
Kirkus Reviews says that the book is long — nearly 900 pages, but that "the rollicking pace, rapidly developing stakes, and Paolini's confident worldbuilding make them fly by," and that it's a "fun, fast-paced epic."
Read a bunch of excerpts.
In the distant future, a young lawyer named Aiya Ritsehrer arrives on Europa, where she sets to work to help rehabilitate criminal suspects. She's assigned to represent a "robotnik" named 812-3 who was convicted of murdering a human worker, but which claims its innocent. Artificial beings were only recently granted rights, but Aiya finds a resistant mindset on Europa, which makes her case and upcoming trial all the more difficult.
MIT Press has a fantastic line of magazine issues that's since morphed into a line of anthologies called Twelve Tomorrows, which consistently produces some outstanding short fiction. The latest installment is Entanglements, which looks at the future of relationships in all of its forms. It has a great lineup of authors included in it, including Mary Robinette Kowal, Rich Larson, Ken Liu, Annalee Newitz, Cadwell Turnbull, and more.
Publishers Weekly gave the book a starred review, saying that "readers will be captivated."
---
September 22nd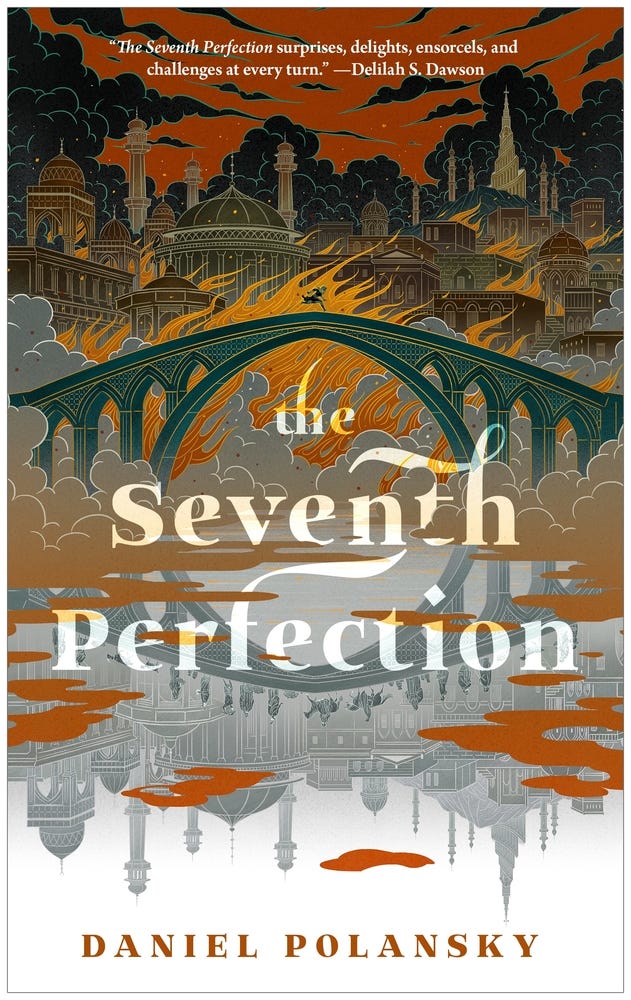 In Daniel Polansky's latest novella, Manet had to master seven perfections to become the God-King's assistant. That mastery includes a perfect memory, something that is slowly driving her mad. As she works to unravel a riddle, it undermines the myths underpinning the rise of the God-King, and could take him and a major city down.
Civilian Reader says that "the novella is a really interesting examination of memory — how it can trick us, or fail us, and how gaps can inspire anxiety."
I've become a fan of Adrian Tchaikovsky's works through Children of Time and Children of Ruin, and in this new novel, he explores parallel worlds. Two girls, Lee and Mal, went out to look for monsters in Bodmin Moor four years ago, and Mal went missing. But when she suddenly reappears, Lee finds that Julian Sabreur, an agent from MI5 is also interested — he's investigating an attack on a physicist named Amal Khan, who was studying parallel worlds, and who appears to have been attacked by Mal. The cracks between worlds are widening, and more things are starting to come through.
New Scientist reviewed the book, saying that it's "a book brimming with ideas, taking in climate change, Brexit and English nationalism along the way, but it never feels overstuffed."
Hench
by Natalie Zina Walschots
Even super villains need an office manager. Anna Tromedlov picks up a job as a data entry drone for Electrophorous Industries, the front company for a super villian named Electric Eel. When he brings her out into the field, she's injured during a fight, and is laid off, and along the way, discovers that there are others like her: regular people injured in the crossfire between heroes, and together, they work to take on both sides.
Kirkus Reviews gave the book a starred review and says that the book's "boldly drawn characters of sundry ethnicities, sexualities, and gender identities engage in realistically complex relationships that evolve (and devolve) over the course of the tale, illustrating the relativity of good and evil, the corrupting influence of power, and the necrotic nature of revenge."
Read an excerpt.
---
September 29th
The second of two Dresden Files novels hitting stores this year is Jim Butcher's Battle Ground. Harry and his friends are up against a new enemy that's bigger than anything they've fought before, The Last Titan, and she's bend on subjugating humanity. Presumably, lots of wizard fighting ensues.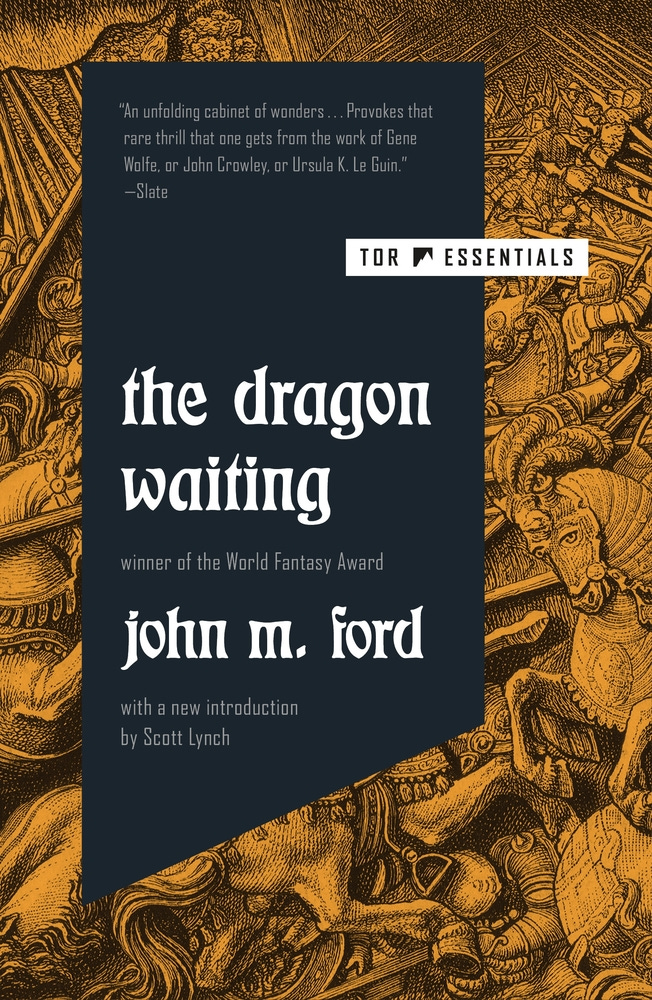 John M. Ford is an author that's been considered a lost gem within the science fiction and fantasy world. A piece in Slate sums up his career nicely, along with the news that Tor will publish two of his novels after long being out of print. The first of those re-releases is 1983's The Dragon Waiting, an influential fantasy novel that comes with an introduction from Scott Lynch.
The book is an alternate history that won the 1984 World Fantasy Award. Set in England, Europe is threatened by the Byzantine Empire, with a healthy dose of vampires, wizards, and mercenaries in the mix.
Read an excerpt.
In Matt Haig's latest, there's a library that exists out at the edge of the universe that contains infinite volumes and realities: it contains what your life is, and what it might have been. One woman, Nora Seed, attempts suicide, only to wake up in the library, and sees all of the different ways her life might have played out. She has a choice: she can pull one of the books off the shelf and live out that reality.
The Guardian hails it as a "celebration of the ordinary: ordinary revelations, ordinary people, and the infinity of worlds seeded in ordinary choices."
Read an excerpt.
S.L. Huang won the Hugo Award for Best Short Story this year, and is now out with a new book that blends fairy tales. Riflewoman Rosa (Red Riding Hood) and Hou Yi, a mythological archer set out to protect their home amidst an invasion of sunbirds, and have to deal with their respective pasts and stories.
Publishers Weekly gave the book a starred review, saying that "fantasy fans won't want to miss this."
Read an excerpt.
Naomi Novik kicks off a new trilogy set in a magical academy: Scholomance, a brutal school where failure means death. One girl, El, begins to unlock the school's many secrets, navigating its labyrinth of tangled alliances and lessons. She also has a particular secret: she possesses a dark power that could kill millions. She could defeat the school's monsters, but at the expense of her classmates.
Publishers Weekly gave the book a starred review, saying that "readers will delight in the push-and-pull of El and Orion's relationship, the fantastically detailed world, the clever magic system, and the matter-of-fact diversity of the student body."
Read an excerpt.
---
That's all for today. For free subscribers, I'll have a set of reviews coming in the next week or so. Paid subscribers, I recently spoke with the CEO of Bookshop.org and the challenges that the site faces in the bookselling industry. Look for that shortly.
As always, let me know what books you're interested in, and what you've been reading lately!
Andrew