Reading List: 23 SF/F books to check out this July
Get lost in troubled galactic empires, all-too-relevant pandemic tales, and more
Thank you for signing up for Reading List! This newsletter is a regular column on the world of science fiction and fantasy. If you like what you read, please consider signing up as a paid subscriber and sharing this newsletter with a friend.
Paid subscribers get access to more in-depth commentary and features — a new post about the legacy and future of Michael Crichton will hit inboxes tomorrow.
---
How is it July already? The year moving right along despite everything, and that means that we've got a new batch of books hitting bookstores in the next month. This coming month brings a whole bunch of interesting titles: a bunch of post-apocalyptic adventures, expeditions into the depths of space, and a bunch of topical horror thrillers. Here's the June list, in case you missed it.
This newsletter uses affiliate links through Bookshop, and I may earn a small commission if you purchase something through the links here. This does not impact the editorial work here.
Here are 23 science fiction and fantasy novels to check out this July.
---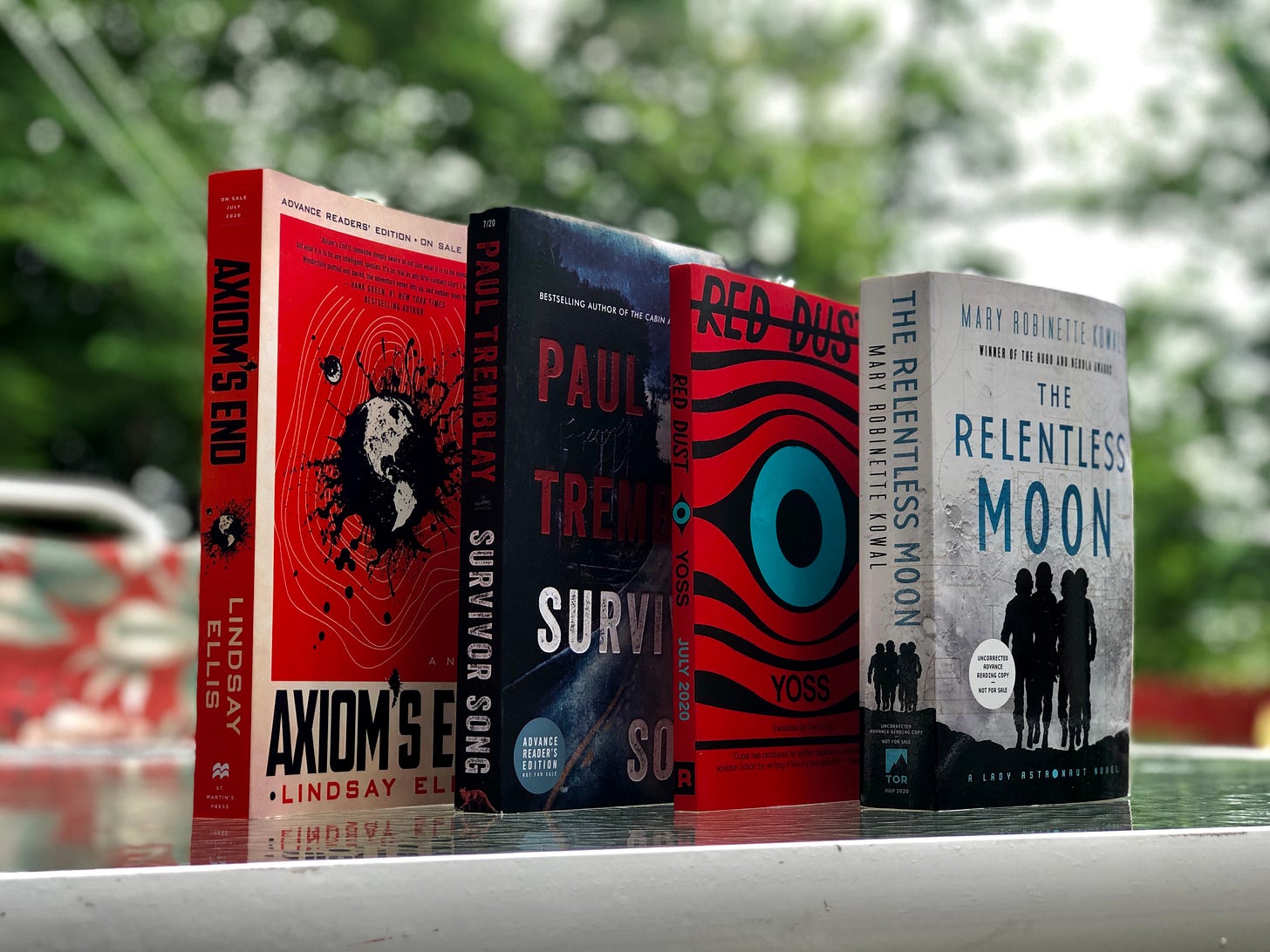 July 1st
In C.T. Rwizi's world, women are magicians, but 18-year-old Salo doesn't want to become a warrior. After he develops a device to awaken his latent magical powers, he saves his village, and is surprised when his elders accept his decision to wield magic. They send him off on a quest thousands of miles from his home, and he's joined by three others, all of whom are being hunted by the same enchantress who attacked his tribe.
Kirkus Reviews calls the book an "ambitious debut," although it dings it for some extraneous subplots.
Read an excerpt.
---
July 7th
Kate Elliot draws her inspiration from Alexander the Great in her latest space opera, Unconquerable Sun. It follows the Chaonia Republic's Princess Sun, who's recently come of age in the shadow of her mother, queen-marshal Eirene. She built the republic into a major force in the galaxy, now faces significant challenges: factions within her government want to remove the Princess as heir, and aliens known as the Phene are planning to invade.
Kirkus Reviews gave the book a starred review, saying that it's "enthralling, edge-of-your-seat stuff hurtling along at warp speed."
Jay Posey (disclaimer: he contributed a story to my anthology, War Stories: New Military Science Fiction) kicks off a new series with Every Sky a Grave. Humanity has spread throughout the galaxy and built a utopian civilization. It's overseen by the Ascendance, which draws on the understanding of the universe's Deep Language, which allows them to shape reality.
That's a deeply-guarded secret, and a mysterious organization within the Ascendance called the First House works behind the scenes to "correct" humanities advances forward. One member, Elyth, has trained as an assassin, and when a version of the language surfaces, she's dispatched to contain it. It's a mission that will ultimately test her skills and her faith in the system.
Anthologist Jonathan Strahan brings together a new anthology about dragons, with an impressive table of contents. Authors include Scott Lynch, R.F. Kuang, Daniel Abraham, Peter S. Beagle, Zen Cho, Aliette de Bodard, Kate Elliott, Theodora Goss, and more, along with art by Rovina Cai.
Publishers Weekly gave the book a starred review, saying that "there's not a single false note among these 29 stories and poems," and that "With myriad approaches to its subject, this wide-ranging anthology is a treasure trove of wonder."
Paul Tremblay has written some of my favorite horror novels in recent years. In books like A Head Full of Ghosts and Disappearance at Devil's Rock, he employs an extremely subtle approach to the fantastic, making you wonder if there was anything supernatural at all.
His latest is topical: Massachusetts is overrun by a rabies-like virus that manifests in an hour, driving its victims to attack those around them. As hospitals are overrun, the state erupts in panic. Dr. Ramola "Rams" Sherman gets a call from a friend whose husband was just killed, and she was bitten. To save her unborn child, Rams has to get her to a hospital for a vaccine, and it becomes a race against time.
Kirkus Reviews gave the book a starred review (as did Publishers Weekly), which hails the book as "a prescient, insidious horror novel that takes sheer terror to a whole new level."
Read an excerpt.
When his grandfather dies, Jonathan Lambshead is ready to inherit his mansion, provided he and his friends catalog its contents. As they go about their work, Jonathan discovers that his grandfather had items from an alternate Earth known as Aurora, a world that occultist Aleister Crowley escaped to. There, he's installed himself as lord Emperor of the Franco-Germanic Empire. Guided to a secret society, he and his friends work to prevent Crowley from returning to Earth to continue his conquest.
Kirkus Reviews called the book "absolutely bonkers; giddiness-inducing for the most open-minded of readers."
Read an excerpt.
Author Sylvia Harrison has enjoyed a lengthy career with more than thirty novels to her name, and a constant in most of them has been one character, who's been a dragon, a soldier, thief, and everything in between. But Sylvia isn't getting older, and the prospect of morality is weighing on the two of them. As she sets out to write her next book, a young adult fantasy novel set in a world from a series of books from decades before, he thinks he knows how to achieve immortality: if only she'll follow him.
Publishers Weekly gave the book a starred review, and says that "this gorgeous, deeply philosophical work is a knockout."
Red Dust
by Yoss (translated by David Frye)
Cuban science fiction author Yoss is back with a new book, set aboard a capitalistic trading station called the William S. Burroughs. Space is controlled by an insectoid alien civilization known as the Grodos and massive Collosaurs, but allows humanity to move about their space. It's in this space that Raymond, a robotic detective, chases after a psionic Cetian lawbreaker with a particular ability: he can shift reality, making him a difficult individual to capture.
SF in Translation called the book a "wild ride" and a "highly entertaining space opera indebted to classic detective fiction."
---
July 14th
ReV
by Madeline Ashby 
Back in 2012, Madeline Ashby made a splash with her robotics novel vN and its sequel, iD. Seven years later, she's back with the final installment of the trilogy, ReV. The trilogy follows a self-replicating humanoid robot called Amy Peterson, who learned some dark secrets about her robotic family's past and goes on the run from clones that want to consume her. In this trilogy-closure, Amy's grandmother Portia frees the vN from human servitude, bringing their struggle for the future of their Von Neumann species to a head.
Jim Butcher's last Dresden Files novel came out five years ago, and fans have been clamoring for the next installment for that same amount of time. Butcher explained recently that the delay came from trying to experiment with the next book, which turned out to be 4/3 of a novel, which he ended up splitting into two parts. (The next book, Battle Ground, comes out later this year).
In this next installment, Harry Dresden joins the White Council's security team to help make sure that some ongoing peace talks between various supernatural factions go smoothly. I think it's safe to say that they… won't.
The Glare
by Margot Harrison
In Magot Harrison's latest YA novel, a young woman named Hedda must venture off of their tech-free homestead and back into the modern world after being isolated for 10 years with her mother. She's been taught to fear technology; that it will hurt her, and she's working to adjust to a normal life with her father in California. After living off the grid for more than a decade, a teenage girl must play a dangerous game — and face the shadows of her past — to save the world from a dangerous dark force.
But back in the real world, she begins to have nightmares that her friends and family aren't real, and when she rediscovers a FPS game called The Glare, which had terrified her as a child. Rumor has it that if you die in the game 13 times, you die in real life. She begins to realize that there's a twisted secret behind the game, and has to stop the game and confront her own internal darkness.
Stephen Graham Jones' new novel follows four childhood friends who grew up on the Blackfeet Reservation, but were able to later escape it and its harsh and toxic existence. Things change when a spectral elk begins to follow him, a demonic reminder of an incident from a decade prior that bound the four of them together. As the people around Lewis begin to die, they're forced to return home to confront their past as it catches up to them.
Publishers Weekly gave the book a starred review, saying that it "works both as a terrifying chiller and as biting commentary on the existential crisis of indigenous peoples adapting to a culture that is bent on eradicating theirs." 
Read an excerpt.
Mary Robinette Kowal's first two Lady Astronaut novels (The Calculating Stars / The Fated Sky) quickly became some of my absolute reads in 2018. In TCS, an asteroid lands off of Washington DC, setting off a climate catastrophe that prompts various governments around the world to stand up an ambitious space program, one that's designed to get humanity to the Moon and Mars. (TCS deals with the lunar missions, TFS follows the first mission to Mars.)
In The Relentless Moon, the global climate is deteriorating, and the International Aeronautics Coalition is facing sabotage and riots. The IAC's moon colony is still being set up, and while astronaut Elma York is off to Mars, her fellow astronaut Nicole Wargin is one of the early Lunar pioneers and head of the colony's security team. While she's dealing with issues in space, her husband, the governor of Kansas, is planning a run for President.
Publishers Weekly gave the book a starred review says that "Kowal effortlessly blends espionage, spacefaring adventure, and social fiction, paying particular attention to the details of life as a female astronaut in the 1960s. This is hard science fiction at its most emotional, intimate, and insightful." I'm reading it now and am loving it.
Stay tuned later this month for an in-depth interview with Kowal.
All Up
by J.W. Rinzler
J.W. Rinzler has written some of the best books about the history and production of Star Wars, Indiana Jones, Alien, and Planet of the Apes with his "Making Of" series (his book about the making of Aliens is coming out in September). I highly recommend these coffee table books, but this month, he's doing something a little different: he's releasing a novel called All Up, a book that's described as "a sweeping recreation of the dramatic race to develop rockets, dominate the skies over earth, and explore our Solar System."
---
July 21st
I'm a huge fan of Lindsay Ellis's video essays on YouTube — I recommend her take on the Hobbit trilogy, Netflix's Bright, Stranger Things and nostalgia, and well, anything else on her channel. She's now turning her attention to fiction, and her debut is Axiom's End.
The book takes place in 2007, after the world learns that the US has made first contact with an alien civilization, and a young woman named Cora Sabino has to deal with the fallout: her father is the whistleblower who revealed the news. While she's been estranged from her father, she learns that her family has been integral to the incident, and that aliens have been on Earth for decades. She eventually finds herself abducted and becomes an intermediary with the aliens, right as others arrive, hunting down the first group of aliens.
Publishers Weekly says that "lovers of character-focused sci-fi will find plenty to enjoy in this gripping alternate history."
In this debut novel from Alexis Henderson, Immanuelle Moore grows up in a puritanical society in the land of Bethel: she's a mixed-race offspring between her mother and an outsider.
Immanuelle aspires to be a faithful congregant, but when she's lured into the forbidden Darkwood, she discovers that her mother once visited the forbidden forest, where four witches had once been killed. As she learns more about her mother's past, she discovers some dark secrets that her church has hidden, and that the true threat to Bethel comes from within.
Publishers Weekly gave the book a starred review, saying that "Henderson offers a powerful portrait of patriarchal, racial, and religious abuses in Bethel society, conjuring a sense of creeping dread and maintaining the pacing throughout."
Alaya Dawn Johnson explores simmering race relations in her latest novel, which follows three characters in the lead-up to the Second World War in New York City. Phyllis is an African American woman who can pass as white, and who works for a mob boss as an assassin. When she runs into Dev, a former boyfriend with special powers — he can sense when people are in danger — she's forced to question everything she knows.
Publishers Weekly says that "Fans of challenging, diverse fantasy will enjoy this literary firecracker."
Read an excerpt.
Ann and Jeff VanderMeer have published a handful of essential survey anthologies in recent years: The Weird, The Time Traveler's Almanac, The Big Book of Science Fiction, and The Big Book of Classic Fantasy. Now, they've got a followup to that last one: The Big Book of Modern Fantasy, which boasts an impressive collection of the best recent fantasy.
This tome contains a lot of well-known names: Jack Vance, Margaret St. Clair, Michael Moorcock, Ursula K. Le Guin, George R.R. Martin, Elizabeth Hand, Carol Emshwiller, Terry Pratchett, Joe Hill, Nathan Ballingrud, and many others — but also a whole bunch of fantasy authors from outside of the US, many of which are being translated into English for the first time.
In Matt Wallace's debut novel (and the first of a trilogy), the Savage Legion are the Empire's go-to weapons to clean up problems throughout its territory. They're expendable warriors pulled in from the slums of the cities, and they'll stop at nothing to win their battles. Evie is a drunk that's conscripted into their ranks, but she has a secret mission: find her former boyfriend, who had been kidnapped after exposing secrets about the nature of the Savage Legion.
Publishers Weekly gave the book a starred review, saying that "Readers will be left thoroughly satisfied and eager to know what's to come."
---
July 28th
Lauren Beukes' next novel is set in the aftermath of a pandemic killed off most of the men on the planet. The story follows 12-year-old Miles, one of the last boys left, who's fiercely protected by his mother Cole. After a violent confrontation with Cole's sister, they go on the run and cross a militarized United States, so that Cole can raise her son to be something other than a surrogate son or sex object.
Publishers Weekly says that while "Beukes's worldbuilding isn't on the level of The Handmaid's Tale, in which a pandemic renders most women infertile, this is a worthy addition to the pandemic fiction subgenre."
Flyaway
by Kathleen Jennings
In this debut novella from Kathleen Jennings, 19-year-old Bettina Scott gets a letter from her missing brother, who vanished years ago with her other brother and father. Recruiting a couple of childhood friends, she leaves home to try and find her missing family members, embarking on a strange journey.
Publishers Weekly gave the book a starred review, noting that "Lovers of contemporary fairy tales and magical realism will find this a masterful work."
Nina is part of a team of mercenary librarians "information brokers" who work to try and bring some hope to a post-apocalyptic United States, while Knox is the captain of the Silver Devils, a squad of super-soldiers defected from their private military company rather than commit war crimes. He hires Nina for a job: they have to recover the archives of the Library of Congress before their PMC gets to them.
Publishers Weekly says that "this postapocalyptic tale of espionage and romance will have readers eager to know what happens next."
Read an excerpt.
Mat is a cybernetic mercenary who's an excellent shot who's hired by the International Access Corporation to transport a mysterious package. That package turns out to be Siliva, a genetically engineered woman who's been turned into a killer. He has a change of heart and decides to rescue her, running from the IAC and falling in love at the same time.
Publishers Weekly gave the book a starred review, saying that "this thoroughly satisfying story works as both thriller and romance."
Read an excerpt.
---
That's all for today. Thank you for reading: let me know in the comments what catches your eye. I'll have another issue headed your way in the next week or so, with some thoughts about genre podcasts, Robert Jackson Bennett's Shorefall.
Paid subscribers: Stay tuned for my feature about the future of Michael Crichton, which should hit inboxes tomorrow. I've also got another paid letter prepped: a blend of history, nature writing, and worldbuilding: The Technological Landscape. (Plus, it'll have some pretty pictures.)
Cheers,
Andrew