Reading List: 22 New Science Fiction and Fantasy Books Coming Out in June
Space westerns, fantastic kingdoms, and more to fill your to-read list this month.
Thank you for signing up for Reading List! This newsletter is a regular column on the world of science fiction and fantasy. If you like what you read, please consider signing up as a paid subscriber and sharing this newsletter with a friend.
---
Hello!
As noted in my May 22nd letter, my regular column with Polygon has been put on hiatus for a while, presumably because of the strain that the COVID-19 pandemic puts on editorial resources and budgets. I enjoy putting these together, so I'll be publishing it here in the meantime.
This newsletter uses affiliate links through Bookshop, and I may earn a small commission if you purchase something through the links here. This does not impact the editorial work here.
Okay, here are the 22 SF/F books that you are hitting bookstores this month that you should check out.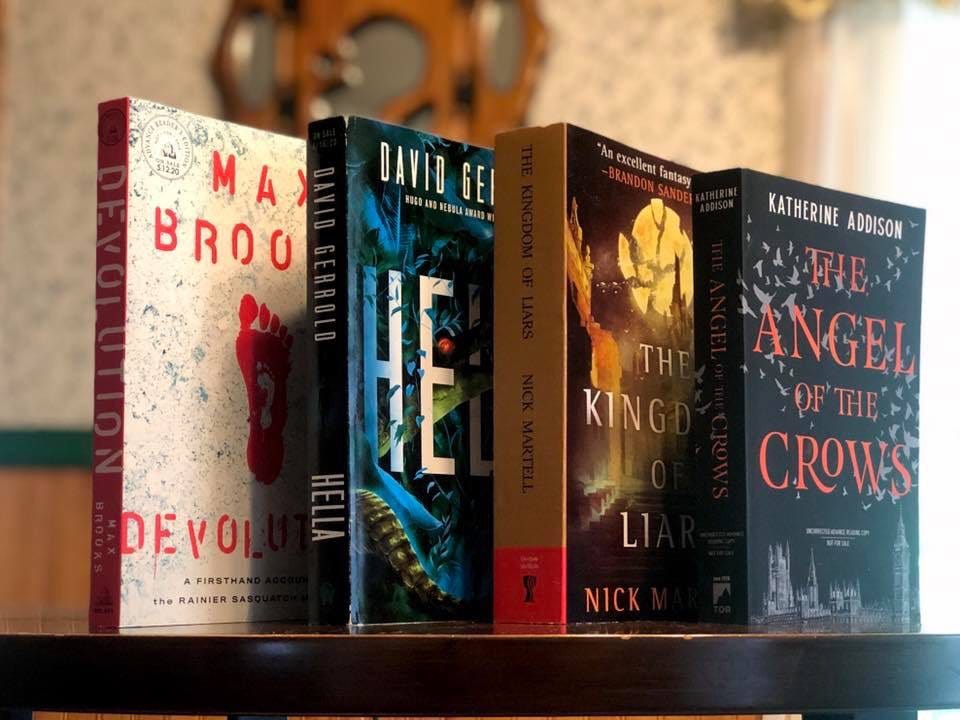 ---
June 2nd
Melissa Caruso kicks off a new fantasy trilogy, Rooks and Ruins. Set in the same world as her prior Swords and Fire trilogy (The Tethered Mage, The Defiant Heir, and The Unbound Empire), it follows Ryxander, the warden of Gloamingard castle, who's been ensuring that the Black Tower remains sealed, to contain some dangerous secrets. But, as one might expect, she's tricked into opening it and a demon from the Nin Hells gets out. It's up to Ryx to contain the situation.
Publishers Weekly says that "the intricate, colorful world is vividly described … and anchored by the raw emotions of the diverse cast. Caruso's new series is off to a promising start."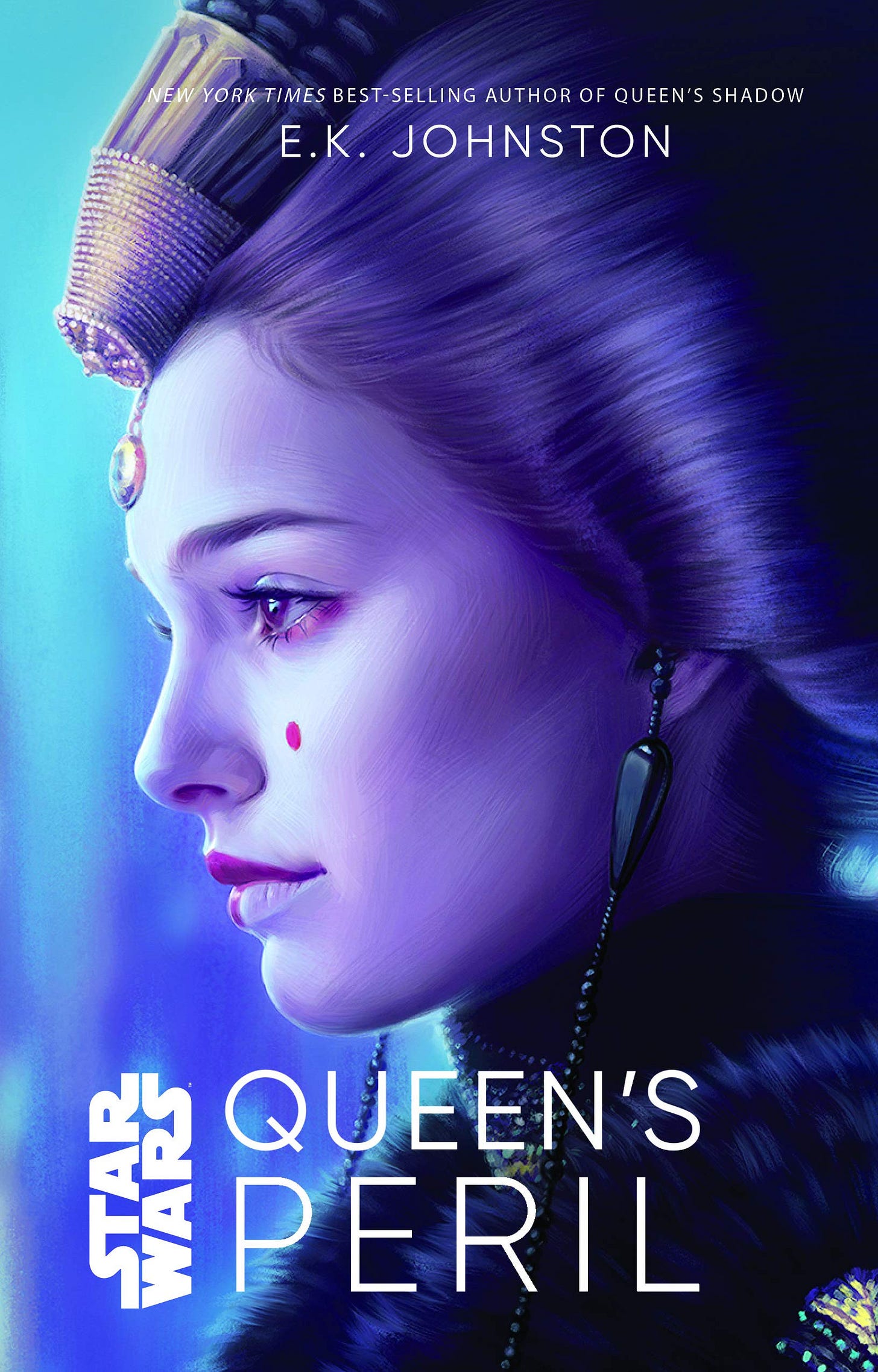 E.K. Johnston returns to Star Wars with a YA novel about Queen Padmé Naberrie, shortly after she's to lead Naboo. The book will follow the start of her reign, as well as the handmaids that accompany her, and how they bond as a group, prior to, and up to the events of The Phantom Menace.
Read an excerpt here.
In Portland Oregon, Tavia is a siren who is forced to hide her powers, while Effie is haunted by literal demons. On top of all of that, the two friends have to contend with life in high school, as well as a murder trial that's taken their community by a storm. When Tavia accidentally lets her voice loose, all hell breaks loose.
Kirkus Reviews says that the book starts off slow, but picks up speed, and that "in this parallel world, black female empowerment is standing up for yourself and others while simultaneously navigating love, physical and emotional violence, and the responsibility of immense supernatural power."
Read an excerpt.
---
June 4th
In the distant future, Vakov Fukasawa was once a bio-engineered soldier called a Reaper. During a massive, intergalactic war, he fought against an invading empire, and while that war has passed, what the Harmony did to his body has lasting consequences. He left the service, but soon finds that his former Reapers are being picked off one by one. Fighting against addictions and unseen enemies, he's drawn into an investigation that goes to the heart of his history.
---
June 9th
John Garth has written a number of excellent books about J.R.R. Tolkien and his life, and has a new one coming out from the Princeton University Press: The Worlds of J.R.R. Tolkien: The Places That Inspired Middle-Earth. This book looks at the places that helped shape Tolkien's imagination and the world that he's best known for.
I just got a copy in hand, and have been flipping through it. While these types of reference books are sometimes thrown together in a slap-dash fashion, this one's well-written and researched, and it should be a really good coffee table book for Tolkien fans out there.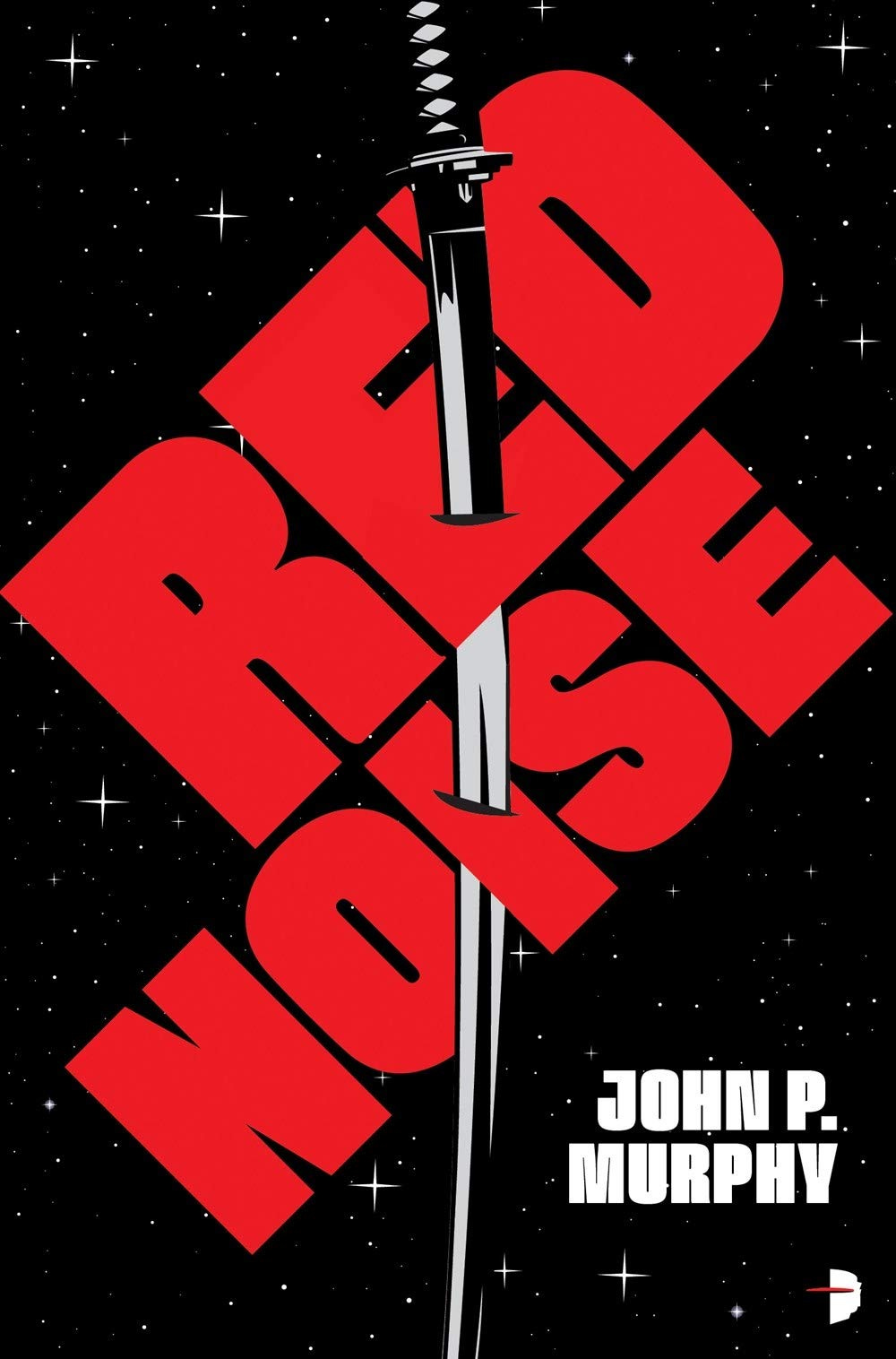 In this space western, humanity has begun mining asteroids and colonizing the solar system. One asteroid miner finds herself on Station 35 to sell her ore and restock before she heads out again, only to get caught up in a tuft war between the station's rival gangs and cops.
Publishers Weekly calls this one a "fast, fun space western [that] is pure entertainment."
[Note: the ebook is out in June, the physical edition hits in July.]
---
June 16th
Glorious
by Gregory Benford and Larry Niven
Gregory Benford and Larry Niven close out their hard SF Bowl of Heaven series, which began in 2013 with Bowl of Heaven, and continued with Shipstar, about the discovery and exploration of an immense interstellar artifact, a half-Dyson sphere. The final installment is Glorious, which continues the adventures of a group of astronauts as they explore it.
I read Bowl of Heaven when it came out, and wasn't all that impressed. But it does seem like it falls nicely in the types of hard SF that Niven and Benford are best known for.
Read an excerpt.
Max Brooks is best known for his zombie book World War Z (and associated books), and is returning to the oral history-narrative with a new subject: Big Foot. Live in the idyllic town of Greenloop in Washington state, is disrupted when Mount Rainier erupts, leaving its residents isolated with no food and few weapons when it suffers a horrific attack.
Publishers Weekly says that "this slow-burning page-turner will appeal to Brooks's devoted fans and speculative fiction readers who enjoy tales of monsters."
Read an excerpt here.
In the nearish future, most people are saddled with incredible amounts of debt, to the point where they sign "lifetime services contracts" — a form of indentured servitude. Aspiring actress Kira Clark owes thousands, and is behind on her payments. She signs up with TKC Insurance as a gunfighter, someone who takes parts in legalized duals to settle disputes. After she's wounded, she gets another opportunity to get a new life, but only if she survives. 
Publishers Weekly says that "fans of insightful dystopias will find plenty to enjoy."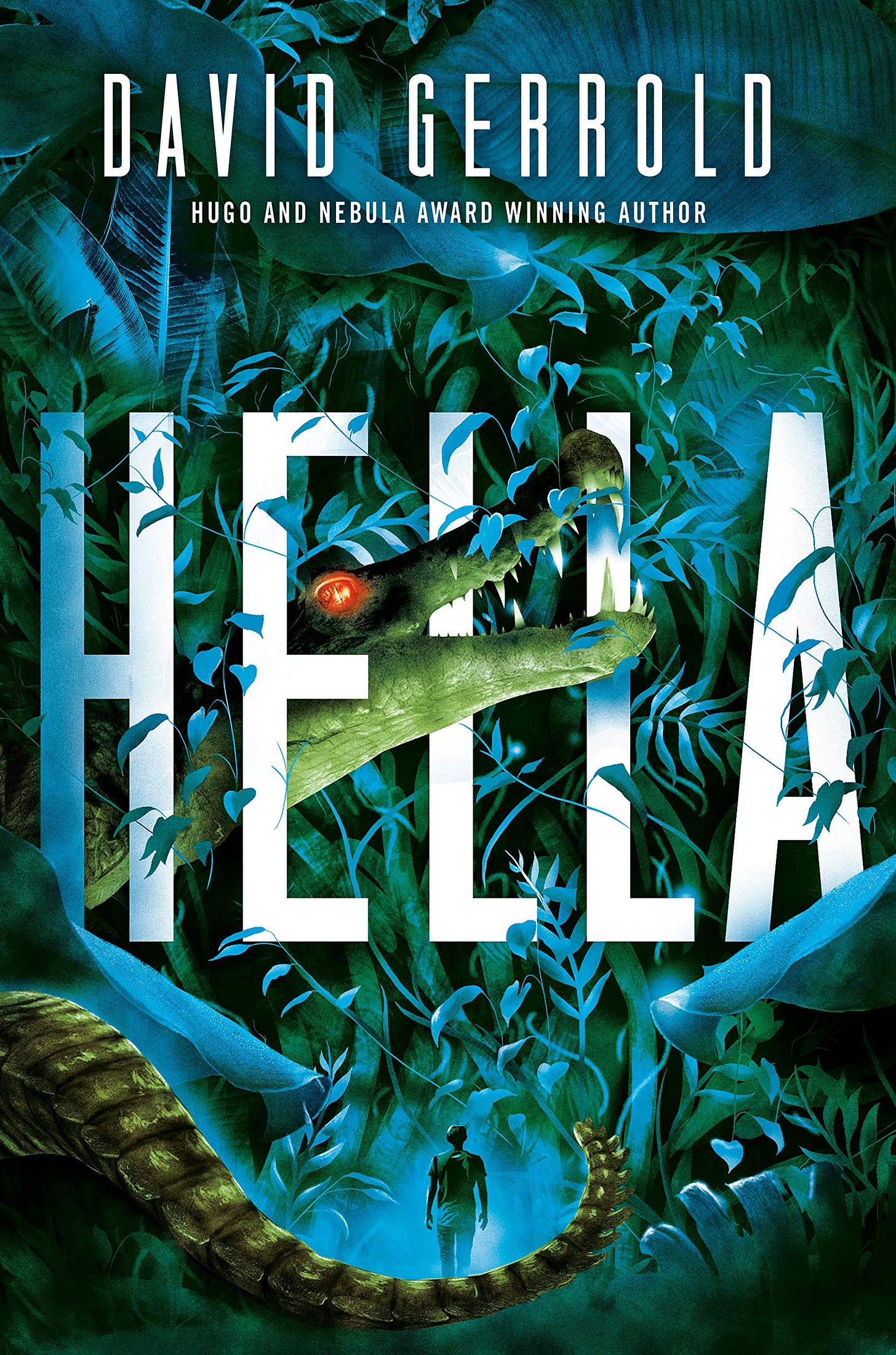 Hella
by David Gerrold
The planet Hella is a world where everything grows to massive proportions: trees are miles high, there are dinosaurs, and extreme fluctuations in the climate forces colonists to relocate twice a year from the equator to the poles. The novel follows Kyle, a neuro-atypical man who can access the colony's computer network via an implant. When a new shipload of colonists arrives, it threatens to overburden the colony, and bring in new problems from Earth. Kyle is caught in the middle, and struggles to balance the safety of himself, his family, and the future of his home.
Publishers Weekly gave the book a starred review, saying that the "effortlessly diverse cast, complex political machinations, and heartfelt coming-of-age themes combine to create a fleshed-out vision of the future that is intense, emotional, and immersive while still maintaining a sense of rollicking fun."
After a bit of a break, Kim Harrison returns to her Rachel Morgan urban fantasy series with American Demon. Witch-born demon Rachel discovers that something has been stalking her dreams along with those of a former enemy, Trent Kalamack. A new demon named Hodin has appeared in town, and as zombies begin to pop up, and it's up to her to figure out if she can trust this newcomer to rid herself of her new enemy.
Publishers Weekly says that "Harrison makes a skillful return to her urban fantasy world, recapturing her signature blend of magical mayhem and soap operatics, though the dwindling presence of Rachel's vampire partner, Ivy, suggests a shift in focus as the series evolves."
Carrie Vaughn takes on the legend of Robin Hood with her latest novella, The Ghosts of Sherwood. Robin and Marian are married, and twenty years after their fabled adventures, and everyone has settled into a quiet life: King John is on the throne and Robin has pledged his loyalty. But when their children are kidnapped, robin and Marian are forced to take drastic measures and rely on everyone they've ever known to get them back. A sequel is due out in August, The Heirs of Locksley.
Publishers Weekly gave the book a starred review, saying that "Vaughn's masterful worldbuilding and lovable cast promise more good things to come in future adventures."
---
June 23rd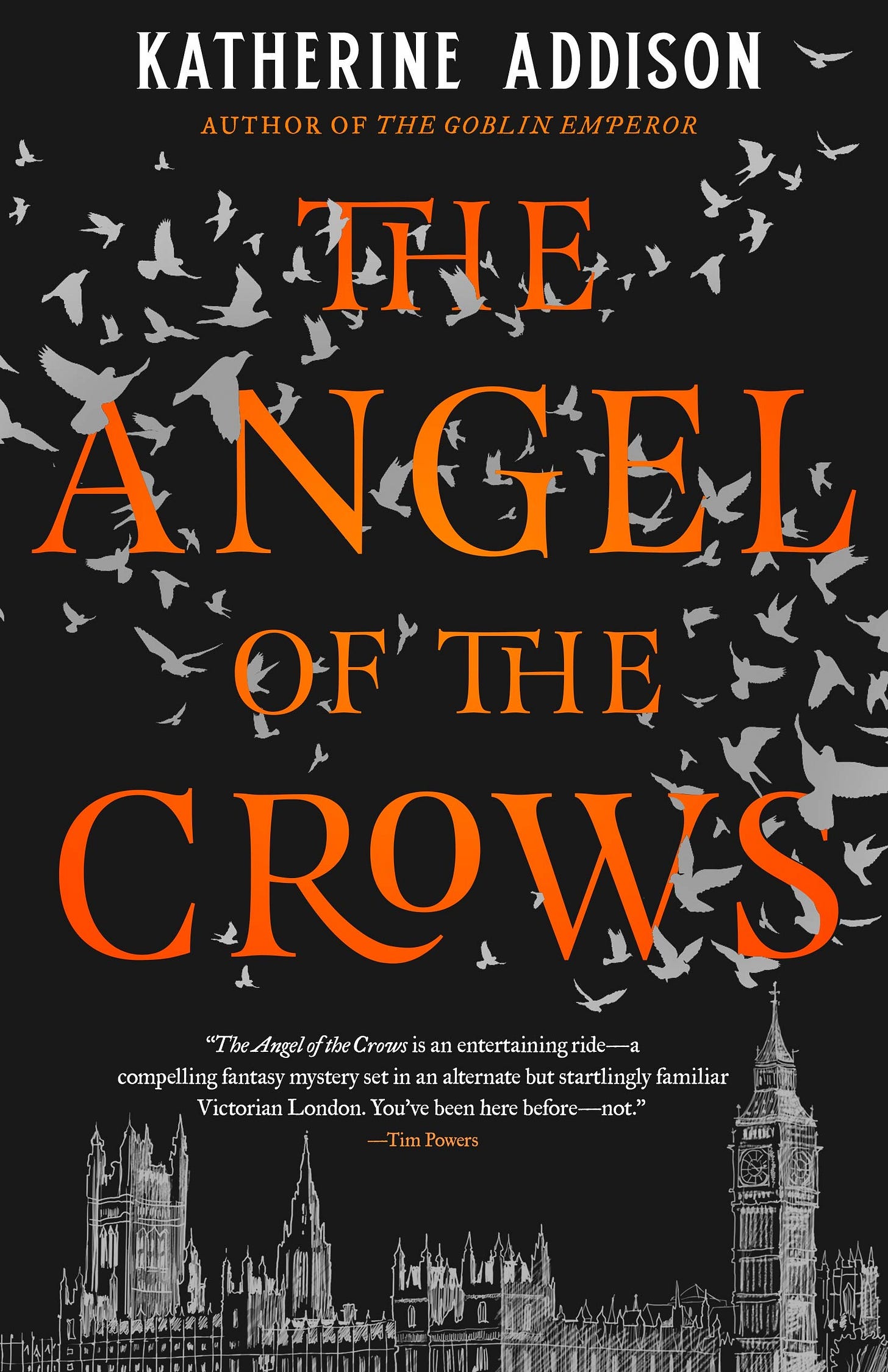 Katherine Addison (the pen name for fantasy author Sarah Monette) is best known for her 2014 novel The Goblin Emperor. She's back writing under the moniker for a new fantasy novel, this one set in an alternate 1880s London: The Angel of Crows.
In this world, angels inhabit public buildings and the streets are full of supernatural creatures. Everyone lives in harmony, but when Angels Fall, it has disastrous consequences. Addison takes a stab at a Sherlock Holmes-style mystery, and it's one in which she focuses on the inequality of the world.
According to Kirkus Reviews, it's a "a Sherlock Holmes–esque novel that truly breaks the mold."
Zen Cho's new fantasy novella is The Order of the Pure Moon Reflected in Water, about a nun from the Pure Moon Order who's rescued by bandits, and she tags along with them on their adventures. They've apparently acquired a priceless artifact, and it plunges the band into a series of unexpected problems.
Grimdark Magazine calls it a brilliant novella, and that it "makes you think about people, their lives, their relationships, their motivations, and their futures."
Alexander Freed's Alphabet Squadron hit stores last year (I really loved it), a new take on warfighting in the Star Wars universe in the aftermath of the Empire's fall in Return of the Jedi.
Its followup is now set to come out this month, Shadow Fall, picking up where Freed left off as the rag-tag Alphabet Squadron works to track down a deadly wing of TIE Fighters known as Shadow Wing. Squadron leader Yrica Quell is desperate to take them down, and lays a trap for the unit, not realizing that they've become even more formidable.
Hachette picked up Devin Madson's self published fantasy novel earlier this year. It's about a war-torn empire, which is beginning to crumble under constant skirmishes and warring factions. After someone betrays the empire and causes a key alliance to collapse, it threatens the entire system. Within this mess is Princess Miko Ts'ai, who's been imprisoned and dreams of a day to reclaim the empire, while an assassin named Cassandra Marius contends with voices from the dead that are promising to cure her of her hallucinations should she betray the empire. And finally, Captain Rah e'Torin and his soldiers who are forced to fight in a foreign war.
Grimdark Magazine says that it's "a visceral, intriguing, intense and emotionally charged ride." 
I remember coming across Nick Martell's name years ago when I randomly came across an article from his alma mater talking about how he sold his first novel to Saga Press. The premise of the novel was intriguing, and I'm happy to see that it's finally coming out.
In a fantasy world, the king's 9-year-old son is murdered by a man named David Kingman. His son, Michael, weathers the fallout of being branded a traitor as a child, and for the next decade, struggles to make a living, stealing from minor royals. Martell's world is one where memory is the key component of magic, and Michael has a particularly useful memory, one that could get him back into the royal court.
Kirkus Reviews says that it's "an impressive fantasy debut that creates a solid foundation for (hopefully) a much larger narrative to come."
Joe M. McDermott first came to my attention via a short novel he published with Tor.com, Fortress at the End of Time. I really enjoyed it, and after wondering recently what he'd been up to, discovered that he Kickstarted and edited an anthology of future crime stories: The Way of the Laser. It has a neat table of contents, with stories from Mur Lafferty, Kameron Hurley, Wendy N. Wagner, and a bunch of others.
In H.G. Perry's latest novel, magicians leads a series of revolutions throughout Europe and the rest of the colonial world during the Age of Enlightenment, working to free slaves and pushing to allow commoners to use magic in Great Britain and its holdings. But behind the scenes, something is pushing society into conflict, and it'll be up to a band of magicians and revolutionaries to unravel the plot.
Publishers Weekly gave the book a starred review, saying that "Parry has a historian's eye for period detail and weaves real figures from history—including Robespierre and Toussaint L'Ouverture—throughout her poetic tale of justice, liberation, and dark magic. This is a knockout."
---
June 30th
S.A. Chakraborty closes out her Daevabad trilogy (which began with The City of Brass and The Kingdom of Copper) with The Empire of Gold. Daevabad has fallen and been stripped of its magic, and Nahid leader Banu Manizheh is trying to stabilize her home with the help of her resurrected commander Dara. The violence has unleashed demons, and to contain them, Dara must undertake some tough challenges.
At the same time, Nahri and Ali have escaped to Cairo, where they work to rebuild their lives in their former human home, and are haunted by the people they left behind.
Read an excerpt. 
In Sophia Mackintosh's latest dystopian tale, women are entered in to a lottery when they have their first period, and are sent to a station to learn what their future will hold: they'll be issued a ticket that'll assign them roles: to be a mother (white) or a worker (blue). Calla is given a blue ticket, and as she begins to question her future, she goes on the run.
Publishers Weekly says that "this tense, visionary drama is a notable addition to the growing body of patriarchal dystopias."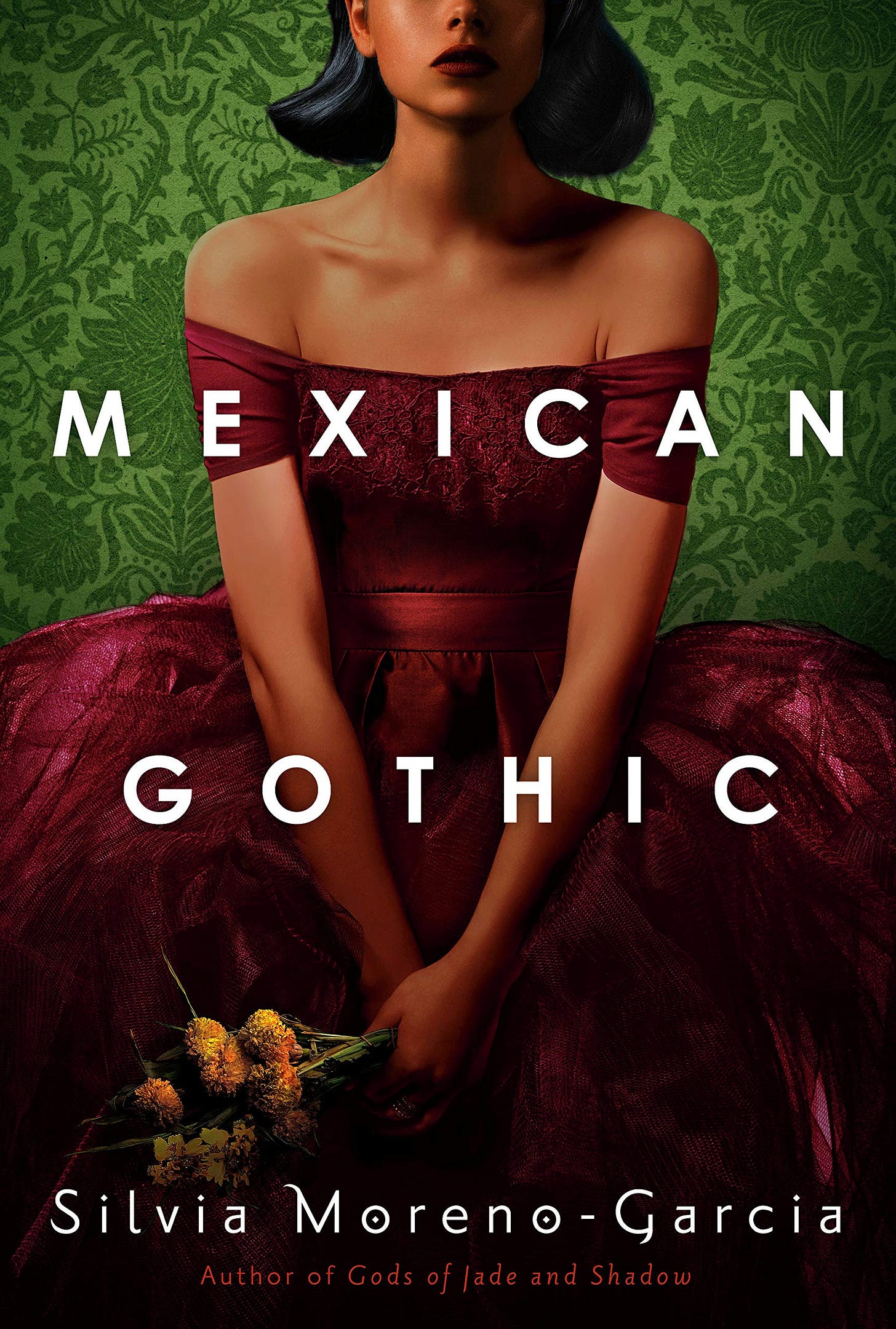 Silvia Moreno-Garcia has written some phenomenal novels about life in Central America — I particularly recommend her book Signal To Noise — and in her latest, socialite Noemí Taboada heads off to a remote mansion in the Mexican countryside after getting an urgent letter from her cousin Catalina. She's not suited for rescues — she's used to the high life and the parties that come with it — and discovers that the house is one with plenty of secrets that are reluctant to let anyone leave.
Kirkus Reviews says that "Moreno-Garcia weaves elements of Mexican folklore with themes of decay, sacrifice, and rebirth, casting a dark spell all the way to the visceral and heart-pounding finale."
Read an excerpt.
Gene Wolfe passed away just over a year ago, but he has at least one more book set to come out: Interlibrary Loan. In the distant future, society runs on some advanced technology, and people can have their personalities uploaded into databases to be borrowed out. One such individual is E.A. Smith, a former mystery writer. He's not a person: he's a piece of property, and he's loaned out to a young girl named Chandra Fevre and her mother. They're hoping that he can help them piece together a map left behind by her missing father, and along with clones of two other authors, works to bring him home.
Publishers Weekly says that "throughout, Wolfe raises questions about the agency of the clones, challenging whether Smithe is really any less human than his borrowers. It's a sardonic view of human relationships on offer, leavened with a droll, punny narrative voice. Complex and clever, this last offering from Wolfe is sure to please sci-fi readers."
Read an excerpt.
---
I hope that you find something here that you like — let me know what catches your eye, and what you're most excited for.
Stay tuned for the next (regular) installment of this newsletter. I've got a couple of reviews and some commentary coming up, as well as the usual selection of reading recommendations. Look for that later this week.
Andrew