Discover more from Transfer Orbit
A newsletter about science fiction and the future
Over 1,000 subscribers
Read Trans / Nonbinary Authors
Expand your horizons
Earlier this year, J.K. Rowling blew up headlines with a series of transphobic tweets and a followup essay that outlined her views when it came to trans people. It's caused considerable angst within the trans community and its allies, and has both galvanized trans activists and elevated hateful rhetoric to the wider public. I wrote about the situation back in June, and since then, Rowling has continued to promote her hateful views.
Most recently, she published a new installment of her Cormorant Strike mystery series, Troubled Blood, which reviewers have noted features a serial killer who stalks women dressed as a woman. The book appears to do away with parable of "separate the art from the artist," and it's ignited a new firestorm around the author. I'd like to use this moment to highlight some trans / nonbinary authors, because their works are well worth reading.
While I've read authors who fall into this category, I want to turn this particular newsletter edition over to Lee Mandelo. I've long admired their writing on the subject, and asked to highlight some works from trans and nonbinary writers that they're a fan of.
Mandelo is a writer, critic, occasional editor, and past nominee for various awards including the Nebula, Lambda, and Hugo. Their work has been published in magazines such as Tor.com, Uncanny Magazine, Clarkesworld, and Nightmare; they also have two books out, Beyond Binary: Genderqueer and Sexually Fluid Speculative Fiction and We Wuz Pushed: On Joanna Russ and Radical Truth-telling. They recently announced that Tor.com Publishing will publish their debut novel, Summer Sons, in September 2021. You can follow them on Twitter, and support them via Ko-Fi.
---
Andrew asked me to help contribute some recommendations of books from SF writers who are trans, nonbinary, and gender-nonconforming, so I took to the shelves and snagged a handful of releases from the past few years. Their original and engaging perspectives reflect worlds informed by broader understandings of gender, relationships, and culture; their stories add a vibrant urgency to a field that engages openly with imagining alternate futures and different ways of being.
For folks curious about expanding their reading lists, all of these are currently in print, and buying them supports the efforts of publishers to acquire more books like 'em. I snuck a couple of collections of poems in there, plus a little nonfiction too, but those texts share an approach to looking at the future I suspect an SF audience would appreciate.
And yeah, if you're wondering, the influx of attention that comes from "ah, a famous person is being wildly transphobic in public again" has some… strange vibes, but the resulting material support still matters!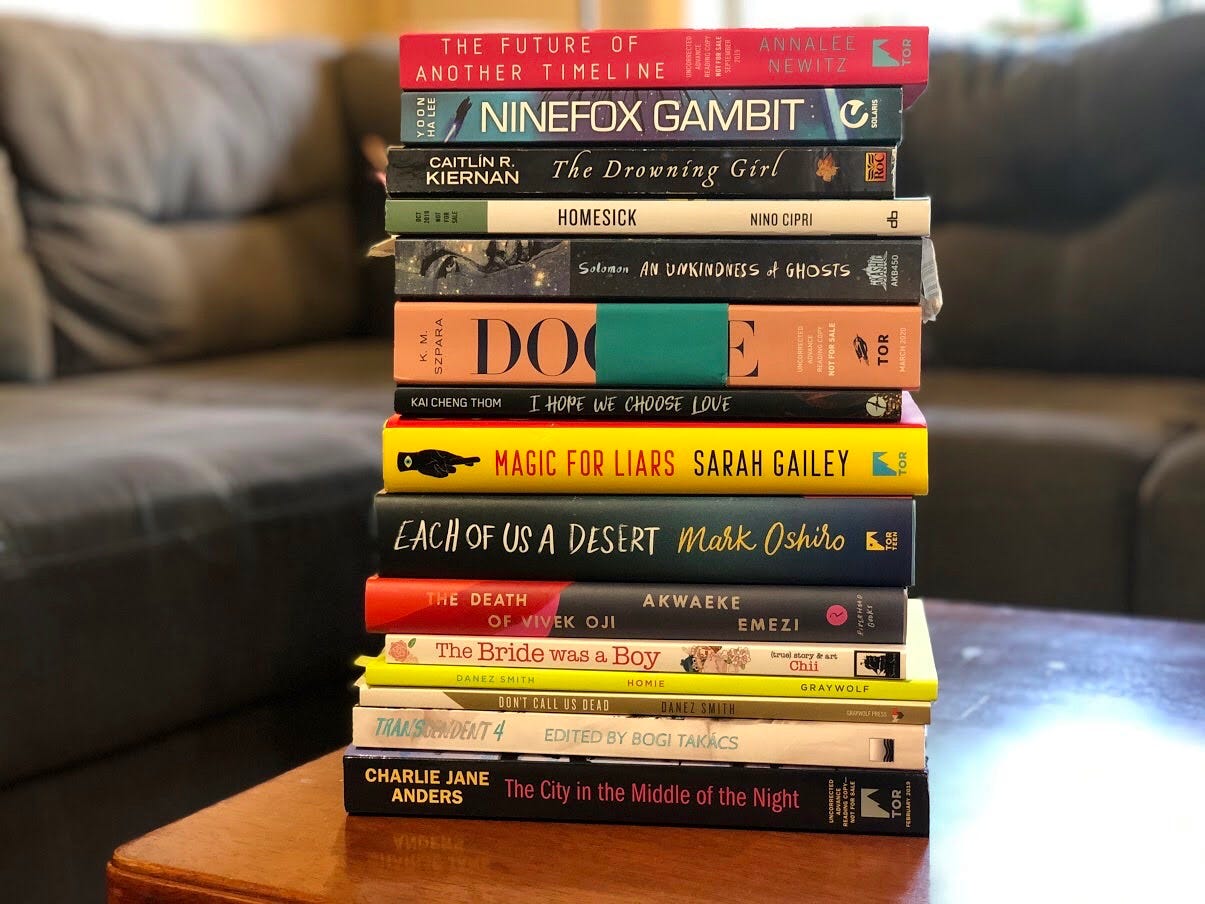 The City in the Middle of the Night by Charlie Jane Anders

Queen of the Conquered by Kacen Callender

Homesick by Nino Cipri

The Bride was a Boy by Chii

Meanwhile, Elsewhere edited by Cat Fitzpatrick and Casey Plett

Magic for Liars by Sarah Gailey

The Drowning Girl by Caitlin Kiernan

The Merry Spinster by Daniel M. (Ortberg) Lavery

Ninefox Gambit by Yoon Ha Lee

The Future of Another Timeline by Annalee Newitz

Homie & Don't Call Us Dead, both by Danez Smith

An Unkindness of Ghosts by Rivers Solomon

Docile by K. M. Szpara

Transcendent 4 edited by Bogi Takács

I Hope We Choose Love: A Trans Girl's Notes From the End of the World by Kai Cheng Thom

The Red Threads of Fortune and The Black Tides of Heaven by JY Neon Yang
For that matter, in the month of September alone there are multiple scintillating new books unto which I'd like to direct your attention:
The Scapegracers by Hannah Abigail Clarke

Each of Us a Desert by Mark Oshiro

Cemetery Boys by Aiden Thomas

The Four Profound Weaves by R.B. Lemberg

Burning Roses by S. L. Huang

Love after the End: An Anthology of Two-Spirit and Indigiqueer Speculative Fiction edited by Joshua Whitehead

The Death of Vivek Oji by Akwaeke Emezi
...and that's more or less off the top of my head, so apologies for the others that inevitably slipped past me. The point I'm aiming for here is that trans, nonbinary, and gender-variant folks of all backgrounds are out there writing books about a hundred thousand different things. Compare those September releases for a minute and you'll notice, beautifully, nothing much in common between them; the same goes for the longer list above.
It's a veritable cornucopia, so go snag some books and support the folks making good art.
---
As always, thanks for reading, and thanks for Lee for providing the list. Expect a regular roundup letter to hit your inbox tomorrow.
Andrew