Discover more from Transfer Orbit
A newsletter about science fiction and the future
Over 1,000 subscribers
I promised a letter with some additional commentary and reviews in my June 2020 book list issue, but given the events of this week, my mind has been scattered. I'm heartbroken at the senseless loss of life, the blatant police brutality, and the disproportionate, racist, and sheer evil response from the people in power.
I don't really have anything to add to the larger conversation other than that: there are writers out there that are more plugged into this than I will ever be (c'mon, I'm a white kid from Vermont — there's a lot that I don't know, understand, or know to understand), and I encourage you to listen to them with an open mind. What I can suggest is the black writers whose work I've enjoyed and learned from, and I'd challenge you to pick at least one of them up.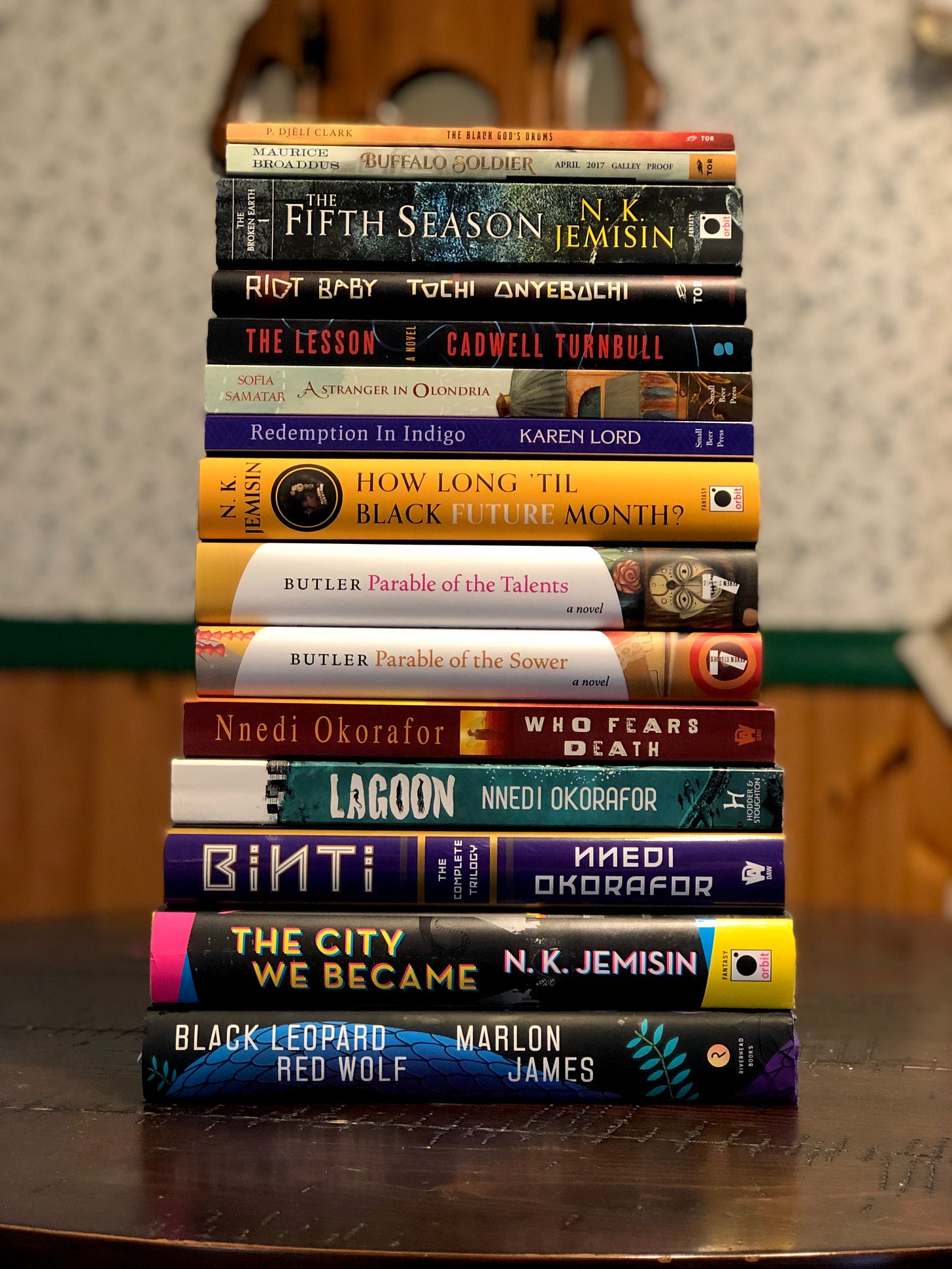 Buffalo Soldier by Maurice Broaddus

Parable of the Sower / Parable of the Talents / Kindred by Octavia Butler

The Black God's Drums by P. Djéli Clark

Babel-17 / Nova by Samuel R. Delaney

Black Leopard, Red Wolf by Marlon James

Broken Earth trilogy / How Long 'Til Black Future Month / The City We Became by N.K. Jemisin

Redemption in Indigo by Karen Lord

Binti trilogy / Lagoon / Who Fears Death by Nnedi Okorafor

Riot Baby by Tochi Onyebuchi

Trail of Lightning / Storm of Locusts by Rebecca Roanhorse

A Stranger in Olondria by Sofia Samatar

The Deep / An Unkindness of Ghosts by Rivers Solomon

The Lesson by Cadwell Turnbull
(I just finished The City We Became yesterday and it's a phenomenal read. Another great one that came out this year is Riot Baby.)
This is certainly not a comprehensive list, by any stretch of the imagination, but I've found these to be a good first step. Because the key here is that this isn't a one time thing, right? It's not limited to just books. The book that you pull off of this list is a microcosm for the rest of the world: what black-owned businesses will you try out? What creators will you support?
Speaking of support: consider donating to some of the campaigns that support protesters, Black Lives Matters activists, civil and social rights organizations, etc.
There is one post that's come out amidst all of this that I'd urge you to read: I Have No Mouth, and I Must Scream: The Duty of the Black Writer During Times of American Unrest by Tochi Onyebuchi over on Tor.com, about his recent experiences writing in this world.
Stay safe out there, and stay angry.
Andrew