Reading List: What's in your bag?, reviews for Ancestral Night / Magic for Liars, and more
Hello!
There's been a bunch of newcomers to this newsletter in the last couple of weeks / months. This is a letter that I write out on a regular basis about science fiction, writing and the future of reading. In this issue, a "What's in your bag?" post, reviews for Elizabeth Bear's Ancestral Night and Sarah Gailey's Magic for Liars, recent SF/F news, and more.

I'm back from New York City, where I interviewed Cadwell Turnbull about his fantastic novel The Lesson. I'm interviewing him again tomorrow night, and I'll devote the next newsletter to the Q&A and the book itself.
Over the course of this newsletter series, I've been writing quite a bit about *how* science fiction and genre literature works on a thematic level (along with news and other general commentary.) I've also been thinking lately about how *I've* been working and what habits I've been in to throw words on a page as a professional.
What's In Your Bag, Andrew Liptak?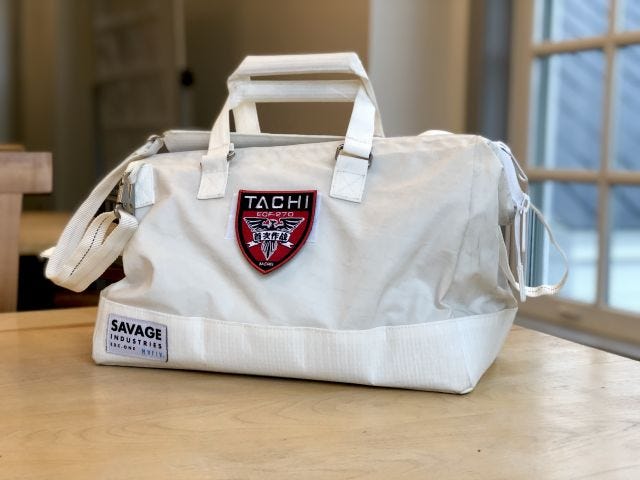 I'm borrowing this idea from the series we run at The Verge. I've written a couple of entries for this, interviewing people like Adam Savage, Ashley Eckstein, and Simon Stålenhag about what they carry with them day-to-day. Because I was bored at the library the other day (and had to reorganize everything) I decided to pull things out and take stock. A while ago, I started carrying around a tote bag that I thought of as my "writer's kit" (let's be honest, though: it's pretty much a purse) which this has now become, and I end up taking it pretty much everywhere, anytime I leave the house.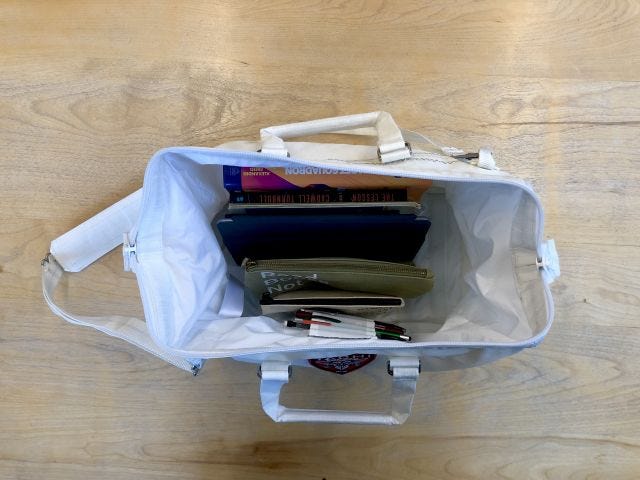 The Bag. The bag I've been carrying around recently is one designed by Adam Savage, the EDC-1. I'd seen him talk about it online, and after getting to see one up close last year, I realized that it was incredibly practical, and actually looked really neat in person.
I wasn't sold on the white color or the wide, tool-box like form, but I've come around on it. Everything is readily accessible from the top, and I don't really have to go digging around to get a book or iPad out, and I don't ever really worry about books or things getting damaged. The entire thing also feels nicely durable — I'm not terribly worried about it ripping or tearing. I like the Velcro patch on the front — right now, it's rocking a patch for the MCRN Tachi, from The Expanse.
In the bag itself, I've been carrying around a regular assortment of things. There are two books: Star Wars: Alphabet Squadron by Alexander Freed, and The Lesson, by Cadwell Turnbull, the two main ones that I was reading as of the time I took those pictures. I try not to leave the house without a book, because every time I don't, I end up in a place where I'm sitting, bored. So, I carry around a book and a backup… and sometimes a backup backup. Currently, I've still got Alphabet Squadron in there.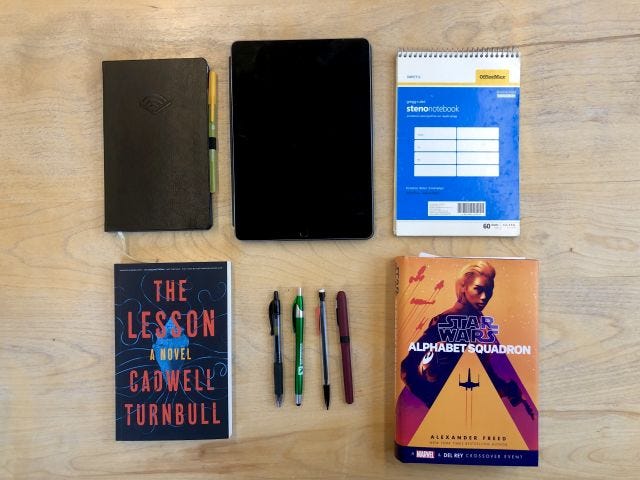 The notebook on the left is the main reason I started carrying around a "writer's bag" in the first place. I've been using it to jot down story ideas in, because I've often come up with a neat idea, only to forget it later. I've got this kicking around with me to jot down those random ideas — a random scene, fully-fleshed out idea, etc. The idea gets written down, and I'll keep notes on it if I think more about it, or write down its ultimate fate: submitted, killed, published, completed, etc.
Next up, an Office Max steno notebook. They're great for taking notes, and for reminders, interview quotes, etc. I've got a handful of them kicking around that I keep on me. (I don't ever have to buy notebooks again — I've got a whole box full of half-used ones in my office.)
iPad Pro with Smart Keyboard. This has become my regular writing device since I bought it last year. It's thin, light, and compact, and the keyboard doubles as a protective cover for the screen. I've found that I can do just about anything I need to on this (that is to say, writing, web browsing, and watching things like Netflix and Hulu), and I've written a bunch of stories and blog posts (this one included) on it. I doesn't really replace my regular iMac computer, but for the times when I'm writing away from the house? It's perfect.
Pens / Pencils. The inside of the bag has some dedicated pen and pencil holders, and I've got a small assortment there. This is useful because they're easy to get to, without having to go into a pouch.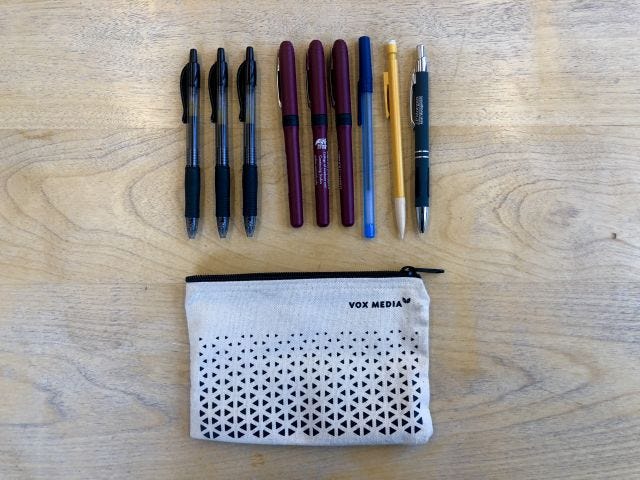 Pen Pouch. This pouch was a work gift, and it's the perfect size for pens and pencils. I've got a handful of good, reliable pens in here: Bic Grip Rollers that still work wonderfully, 3-4 years after I left Norwich, a handful of Pilot G-2s, which are also wonderfully reliable, a regular Bic pen, a mechanical pencil, and another random pen. I also have a fountain pen that wasn't there when I took the picture. All of these are good for regular writing / note-taking.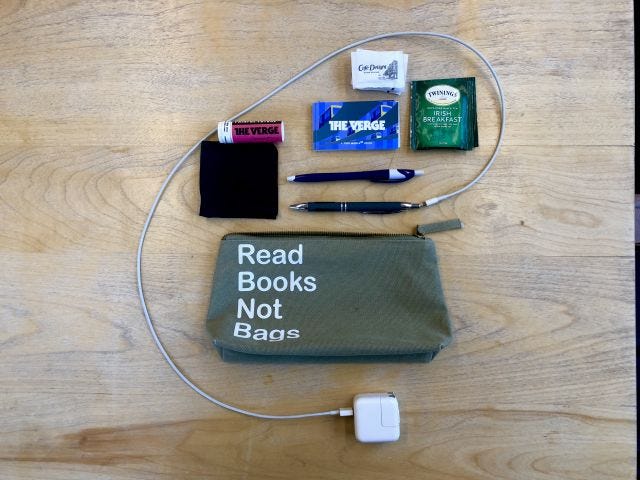 Equipment pouch. I picked up the pouch itself at Barnes & Noble, because I found I needed something to carry around the other random things. The cylinder there is a Verge handout from CES a couple of years ago — I've filled it with Ibuprofen. Two other random pens, business cards, a cloth for my iPad's screen and a cord and a 12W charger for the iPad. There's also a couple of tea bags and sugar packets (an idea I stole from Savage), which I've found useful while traveling.
Not pictured, but I usually also carry around an additional plug and cord for my phone, AirPods, headphones — the 35mm / lightning connector ones — and a spoon. There's also a slip backup battery and cord that my wife recently gave me that I've found useful when I need a bit of backup power.
Where to write?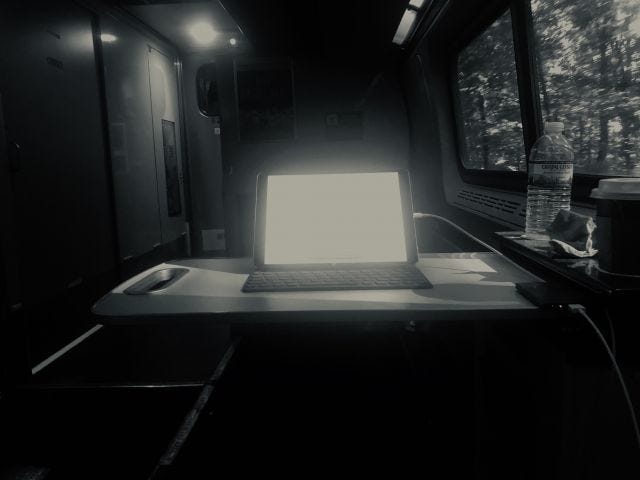 Here's the thing about working on the internet, or anywhere near it: it's horribly distracting. For someone who has to deal with ADD, that's generally not a great combination, and there are more times than I can count that I've gotten down some rabbit hole on the internet and have lost an entire day when I'm supposed to be doing … something else.
With that in mind, this bag has become a pretty important thing, a sort of mobile office for writing fiction or the cosplay book. On my normal work day, I'm generally locked behind a computer because of how the news cycle works. Which is fine — banging out a couple of 200-500 news posts is pretty easy to do. It's the longer stuff that takes a bit more concerted effort to get into — like a book. Or the handful of feature articles I keep picking away at.
So, getting away from distraction is becoming important. I think I've mentally programmed myself to be a bit more productive at the library, but it's also nicely quiet, and I don't have the excuse of things around the house to get distracted by.
There are three places that I've been finding it's great to work out of. The closest is Barre's Aldrich Library, which has some good seats / tables, and I've used this to slip away for short hops when I need to go heads-down on something for an afternoon. Next is Norwich University's Kreitzberg Library, which has a ton of spots to work, although during the school year, I usually have to hunt for a spot. Finally, there's South Burlington's Public Library, which is 40 minutes away, but it's got a nice bench, and it's a good place to do some work if I have an errand or interview or something up there. Plus, parking is free, there's a food court, and a Target and B&N nearby for after I'm done. The drive up and back is also a good opportunity to clear my head or listen to an audiobook. Amtrak is also fantastic.
Some of my working habits will change this year. Since we've owned our house, I've set up an office in one of the rooms upstairs. With a baby on the way, that'll be repurposed for her room. One of my big projects this year is to refurbish a shed on our property into a proper office. It's nice and spacious (and should be even more so if we can raise it up and give it a couple of additional feet), but it needs a floor, insulation, windows, proper doors, upgraded wiring, and the like. Once it's done, I'm looking forward to having my own, dedicated space to work in.
Elizabeth Bear's
Ancestral Night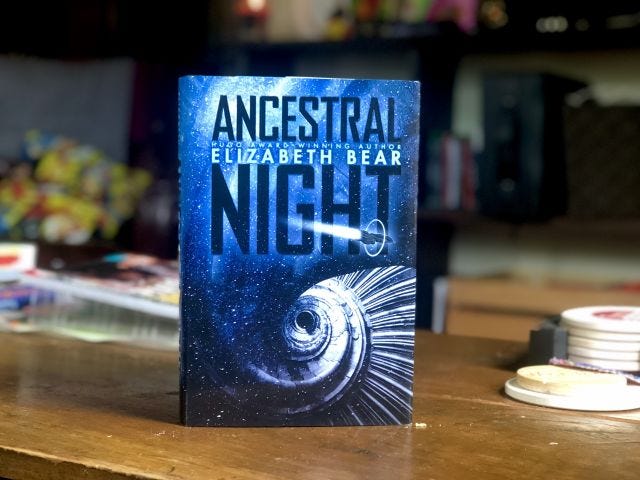 I finally finished Elizabeth Bear's book Ancestral Night the other day, and it's a really superb work of space opera, one that did a lot of interesting things. It's set in a distant future where humanity is part of a larger, galactic civilization, and where everyone pretty much gets along. There's no real big war that's driving humanity against a plethora of alien civilizations: they're coexisting as best they can. The novel follows a team of space salvage operators, Halmey Dz, her partner Connla Kurucz, and their AI, Singer. They've had a rough go of it in recent years, and they search space for lost wreckage, hoping to score it big. They end up finding a massive alien ship, and a terrible secret onboard, which puts them into the path of a band of space pirates, and galactic authorities.
There's a real retro feel to this book, but one with a nicely modernized set of sensibilities. Bear includes everything from commentary about the value of communities, includes plenty of LGBTQ characters, and muses on the nature of intelligence and nature vs. nurture, especially when it comes to augmentation and free will. Halmey comes from a particular cult that focuses on consensus decision-making, and was involved in a terrorist plot earlier in her life, and has been trying to pick up the pieces ever since. She's constantly trying to find her place in the universe, and a good part of the book is how she's re-learning who she is after a pretty traumatic past. She's an excellent character, as are her two companions — especially Singer.
While I loved all of the component parts of the book, there was one big flaw: there's a lot going on and it feels really unfocused at points. Bear throws a lot of good stuff in there, and I'm not sure it always meshed. At one point, Hamley gets stuck on an alien ship with a pirate, and they spend a lot of time talking and going over her past. It's interesting stuff, but it slowed the book down, and felt a little out of place — almost like it could have been the focus of another novel set in the same world. That's not necessarily a bad thing, and it isn't poorly executed; it just feels as though the book could have been slimmed down just a tad. It took me a little longer than I would have expected, given the subject matter and story. Folks who liked Becky Chambers' Wayfarers series or James S.A. Corey's Expanse series will love this one.
Sarah Gailey's
Magic for Liars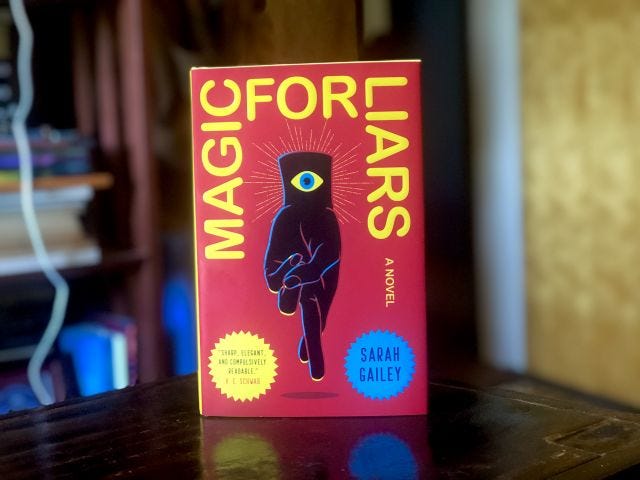 I'm a big fan of the magical school trope. J.K. Rowling's Harry Potter series was one of those life-defining books from high school through the end of college, and Lev Grossman's The Magicians books came right in after as I was starting my career as a college administrator and writer. Sarah Gailey's debut novel Magic for Liars is like a third part of that transition, and I blew through the book in just about a day.
The story introduces us to Ivy Gamble, a woman who works as a private investigator, and who has a bit of a secret: her estranged twin sister is a brilliant magician. She's hired by the headmaster of the Osthorne Academy of Young Mages in California, where her sister works. The two haven't spoken in years, and when a teacher at the school is found dead in the library, they're unexpectedly reunited.
Gailey is the author of the American Hippo novellas, and while I loved the concept, I felt that they were a bit weak, character-wise (one of the downsides to Tor.com's novella line: sometimes, a story is too slimmed down, and could have been a bit longer.) That isn't a problem here. Gailey brilliantly sets up these two sisters, and Ivy is a phenomenal, bitter character who is pretty much burned out on everything, stemming back to some deep-seated family history that drove her and her sister apart.
This book succeeds in two ways. First, it's a fantastic mystery, and Gamble, an outsider to this magical community, is the perfect person to solve it, because she can approach it from that unknowledgeable angle, but who knows how perfectly messed up people are, and what sorts of bad decisions they can make. Secondly, it's a great magical school entry. Hogwarts is delightfully twee, Brakebills College for Magical Pedagogy is realistically cynical, and the Osthorne Academy of Young Mages is… a typical high school. There's plenty of details that show off that kids — even magical kids, will be immature, do stupid things, are egotistical, and crave attention.
What really makes this book stand out is that it revolves around a couple of things that fantasy (and science fiction, for that matter), typically ignores: wOmEnS IsSuEs. I won't spoil how this plays out, but it's a mystery that comes down to teenage and family drama in ways that feels utterly realistic, and I'm guessing entirely relevant and relatable to any woman who picks up this book. Gailey also keeps the mystery entirely fresh throughout the entire read, throwing me off in a couple of places, and nailing the book with a fantastic (and frustratingly ambiguous) ending. She tells me that she's not planning on a followup, which is also refreshing? There needs to be more standalone novels, although I would dearly love to see more of this particular world.
Further Reading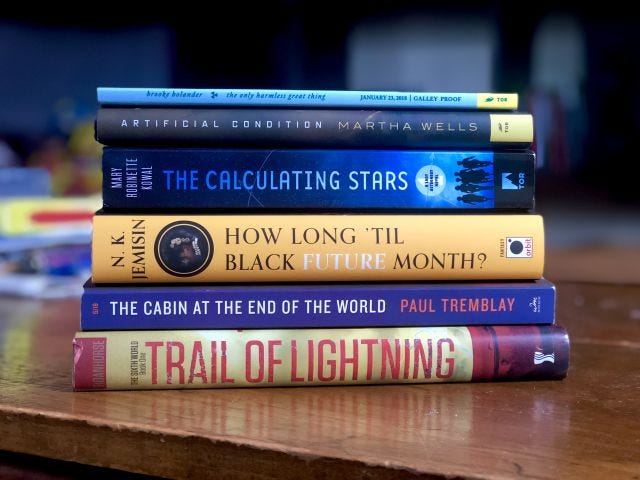 The Locus Awards. Locus Magazine is holding its annual Locus Awards Weekend in Seattle, and announced this year's winners. It's a phenomenal slate of winners — congratulations to Mary Robinette Kowal (SF Novel), Naomi Novik (Fantasy novel), Paul Tremblay (Horror novel), Justina Ireland (YA novel), Rebecca Roanhorse (Debut novel), Martha Wells (Novella), Brooke Bolander (Novelette), Phenderson Djèlí Clark (Short story), and all of the others!

Sturgeon & Campbell Memorial Awards. Congratulations are also in order to Annalee Newitz for winning the Theodore A. Sturgeon Memorial Award for her short story "When Robot and Crow Saved East St. Louis," and to Sam Miller Jr. for winning the John W. Campbell Memorial Award for his novel Blackfish City.
The next big Chinese SF adaptation? Earlier this week, I wrote about how a Chinese media company, YooZoo, has been working on a television show based on Liu Cixin's The Three-Body Problem. The news comes from a site that discovered a TV production form on a governmental website, and a couple of sources have since confirmed that it's valid and that the project is in production. Whether or not it's made, and if it comes to the US is a whole different question. Given that The Wandering Earth did extremely well, I'm not surprised that an adaptation is in the works. If you haven't read the trilogy, do so immediately. They're fantastic books.
Irene Gallo promoted at Tor.com. This is some excellent news: Irene Gallo, who's been an integral part of Tor.com, has been promoted to Vice President and Publisher for the site. She's been at Tor for nearly 30 years, and a lot of the company's excellent covers owe a lot to her direction. But more than that, she's helped shape the website to what it is today. Tor.com could have very easily have been a random promotional site for Tor books, but it's definitely something more (Barnes & Noble's Sci-Fi and Fantasy Blog, under Joel Cunningham's direction, is much the same way.) — it's an essential source of genre industry news, and it provides some fantastic commentary on the world of science fiction and fantasy. I'm excited to see where she takes it next.
Goodbye, ThinkGeek. Nerd commerce site ThinkGeek is officially shutting down and migrating over to GameSpot, where a "curated selection" will be available. As someone who's browsed and shopped at the site for at least a decade, I'm bummed out by this, because their whimsical nature is most certainly not going to survive. I picked up a Star Wars teapot in their "moving" sale.
NYT's visions from the future. The New York Times has been releasing a series of Op-Eds called Op-Ed from the Future, written by a whole bunch of notable science fiction authors: Ted Chiang, Hannu Rajaniemi, Malka Older, and Cory Doctorow. The project comes from Susan Fowler, the Times' Opinion Technology editor, who wrote that "science fiction is so powerful and effective because it takes the problems and issues we face today and puts them into new situations and contexts, allowing us to see them more clearly." That's a pretty run-of-the-mill explanation for the value of SF, but seeing these sorts of stories published in the NYT is a huge thing.
These are some pretty spectacular works of fiction, which get to the root of some fundamental problems going on right now. Chiang's entry about a project that genetically engineers low-income children is devastating, because it punctures a nice hole in the great American myth that talent and intelligence are things that can lift you out of poverty. Rajaniemi's story is about a kid dealing with the pitfalls of AR; Older's piece imagines Latin America forming an EU-like economic bloc, and the panic it would case US politicians; and Doctorow's entry is a pointed argument about news dissemination, platforms and megacompanies that I thought for a split second wasn't from the future at all. All are really worth giving a read, and I'm looking forward to seeing what comes next in the series.
Amazon's problems with counterfeiting. In other New York Times linkage, David Streitfeld has an interesting read about the problems that publishers face on Amazon with counterfeit products. "Amazon, which does not break out revenue or profit from bookselling or publishing, assumes that everyone on its platform operates in good faith until proven otherwise," he writes. This isn't a problem that's limited just to Amazon - but to major social media platforms in general: they're simply too big to keep a close eye on what they're selling, whether that's books, users, or content. For publishing, that's a problem, given publishing's thin margins. Piracy is already an issue for writers and authors (not even just with books — I've had articles and pictures scraped by other sites.), this just feels like insult to injury.
WarnerMedia is developing series adaptation of Station Eleven. This is cool news. WarnerMedia is developing Emily St. John Mandel's post apocalyptic novel Station Eleven for its streaming service. (The same place the just-announced Dune series is headed). I really enjoyed Station Eleven, and will be interested in seeing how this turns out. Hiro Murai, who's done a lot of fantastic work on Atlanta, is slated to direct and produce, which is a good sign.
Reading List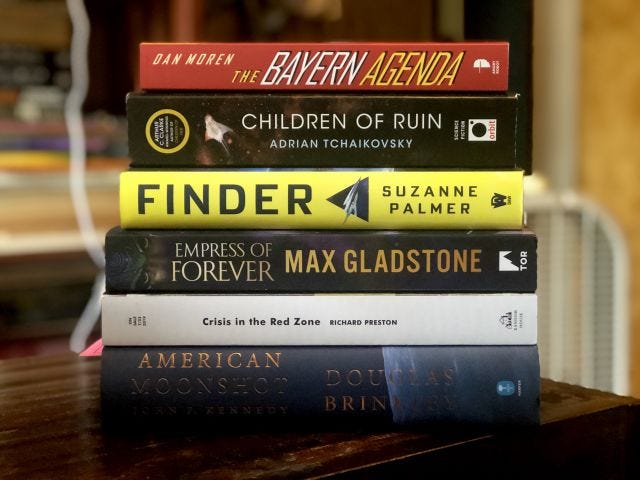 I'm still reading Star Wars: Alphabet Squadron. I had to set it aside while I finished a couple of other books. One of those was Silver in the Wood, a novelette (?) by Emily Tesh. It's a touching story about two queer characters, Tobias, a Green Man, and Silver, a man who stumbles on his cottage in the forest. The forest and Tobias has some long history, and there's a dangerous presence lurking in the shadows. It's a really good piece of folklore, although it felt like it got a little unfocused at points. Still, it's just over a hundred pages, and it's easy to tear through in a sitting or two.
On the horizon: Max Gladstone's Empress of Forever, Suzanne Palmer's Finder, Dan Moren's The Bayern Agenda, Adrian Tchaikovsky's Children of Ruin, and a couple of others. I've got a short list of nonfiction books that I need to dig into as well, including the new one from Richard Preston, Douglas Brinkley's history of the Apollo program, and a couple of others.
That's all for this week. As always, let me know what you think, and what you've been reading!

Andrew