Discover more from Transfer Orbit
A newsletter about science fiction and the future
Over 1,000 subscribers
20 Sci-fi and fantasy books to check out in August
Adventures deep in space and time
Thank you for signing up for Reading List! This newsletter is a regular column on the world of science fiction and fantasy. If you like what you read, please consider signing up as a paid subscriber and sharing this newsletter with a friend.
---
Hello!
Tonight at the virtual CoNZealand is this year's Hugo Awards presentation. It'll begin streaming online at 7PM Eastern time, and I'm eager to see what wins the top honor this year. The last couple of years have brought about some excellent works, and this year's selection of finalists is a solid one.
Because tomorrow is the 1st and today is a Friday, I figured I should kick the monthly book roundup out the door a little early. Here are 20 SF/F books hitting stores in August that you should check out: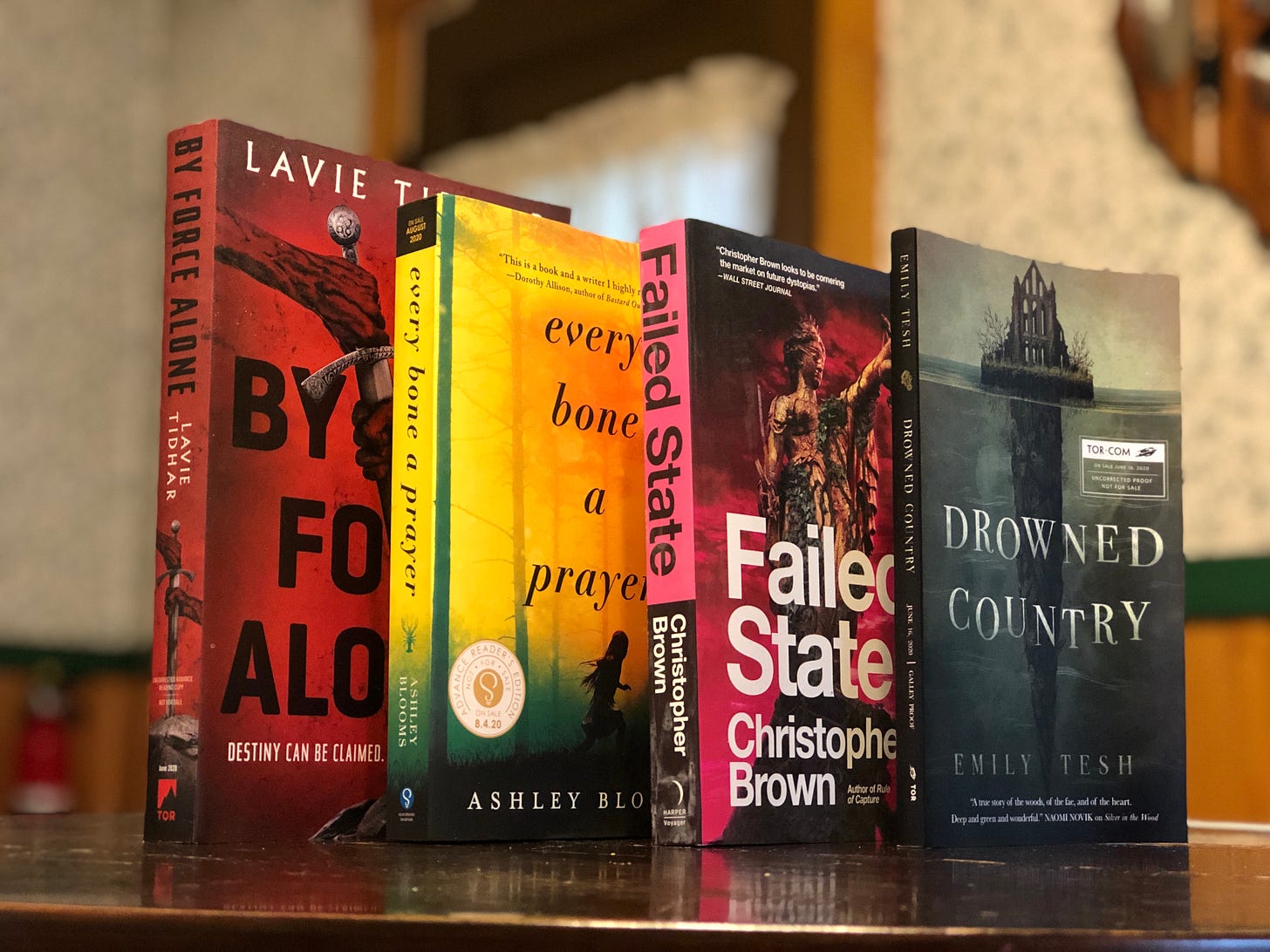 ---
August 4th
10-year-old Misty has grown up in a hollow nestled deep in the Appalachian Mountains in Kentucky. She has a particular ability: she can speak to her surroundings, like crawdads, the trees, and the rocks. Her world is falling apart: her parents are separating, and she's the target of horrific abuse from her teenage neighbor. The novel is described as magical realism, and as Misty works to survive, she learns more about the deeper history of her hollow and the cycles of abuse that go back generations.
As a courtesy to readers, Bloom has posted a trigger warning for the novel here. Read an excerpt here.
Seven Devils
by Laura Lam and Elizabeth May
Laura Lam and Elizabeth May team up for a new space opera duology, starting with Seven Devils. Eris was the heir to a galactic empire, but faked her death to escape from it, eventually joining up with a resistance movement working to stop its ruthless expansion across space.
She's assigned to a mission to sneak into a spaceship and gather intelligence on its cargo. However, once she and her difficult partner Cloelia get onboard, they find three refugees who know a lot about the empire's inner workings, and they have to get them out before they're captured. Publishers Weekly says that "this epic, if occasionally bumpy, voyage will appeal to fans of underdog stories and bombastic feminist sci-fi."
Read an excerpt here.
First Sister is a priestess in an order that accompanies soldiers in a vast, interstellar conflict. But when she's abandoned by her captain and loses her chances at freedom, she's ordered by her sisterhood to spy on her new captain, Saito Ren. Meanwhile, a Venetian soldier named Lito Val Lucius has risen from the slums of his home to make a name for himself, only to be defeated by Ren. Their lives will eventually intersect, and the two make some startling discoveries about the world they live in.
Publishers Weekly says that "Lewis skillfully handles the tale's many moving pieces, maintaining pace, nuance, and clarity throughout," and compares the book to James S.A. Corey's The Expanse series.
Read an excerpt.
Tamsyn Muir's Gideon the Ninth was an extremely fun, pulpy read about a necromancer and her cavalier as they take on a series of challenges from the Emperor to become his Lyctor — an immortal advisor In this sequel, Harrowhark is now Lyctor, and is working to get oriented in the imperial halls amidst a vast, endless war.
She's partnered with Ianthe, a rival and a trio of unhelpful teachers as she works to hone her skills further. But her transformation into a Lyctor didn't go as planned, and she's stymied by her failing health, ghosts, and the memory of Gideon. Publishers Weekly gave the book a starred review, saying that "Muir's labyrinthine plot raises the stakes of the series as it pushes the characters to their limits, exploring their trauma and anguish while keeping intact the irreverent comedy, grisly necromantic science, and gothic sensibilities that fans expect."
Read an excerpt.
Carrie Vaughn released The Ghosts of Sherwood earlier this summer, and returns with its followup, The Heirs of Locksley. In the first book, Robin and Marian's children have gone missing, and the two set off to find them.
This sequel takes place years later: King John has died and 13-year-old King Henry III is about to be crowned. Robin and Marian encourage their three children — Mary, John, and Eleanor to befriend the boy king under his wing, only to discover a political plot designed to overthrow him.
---
August 11th
I first came across Christopher Brown with his novel Rule of Capture, a dystopian thriller about Donny Kimoe, a lawyer working to defend a filmmaker who saw an opposition leader killed and who is now accused of terrorism.
Failed State takes place nearly a decade later and Kimoe returns to New Orleans to try and find a kidnapped heiress to a major corporation, and then defend her before a sham trial put on by the rebels that he once defended. Publishers Weekly says that "Brown adds new layers to the wildly imaginative dystopian setting of his first two works, now with an emphasis on environmental law."

In the near future, the world is ravaged by climate change and pollution, and Bea's daughter Agnes is slowly dying. When the opportunity arises to volunteer to live in the Wilderness State, Bea jumps at it. They'll be part of a team that'll try and coexist with nature in the wild, untouched state, living as hunter-gatherers.
As the group learns to survive in the wild, Bea has trouble leaving the city behind, while her daughter grows even wilder, forcing the two apart. Other problems arise as well: when the government discovers a new use for the land, they have to try and fight back to protect their new home.
Kirkus Reviews says that "this ecological horror story (particularly horrifying now) explores painful regions of the human heart." The book was just long-listed for the prestigious Booker Prize.
Seth Dickinson has earned considerable acclaim for his books The Traitor Baru Cormorant and The Monster Baru Cormorant, and now returns to the series with a third installment, The Tyrant Baru Cormorant. The series follows a young woman, Baru, who's home island is taken over by the Imperial Republic of Falcrest, and works her way up the ranks of power to try and enact revenge from the inside.
In this third installment, she's spent 15 years getting to the point where she can enact real damage, and is poised to release a bioweapon upon the Republic — potentially killing hundreds of millions of people. Paul Di Fillippo praised the book in Locus, noting that "Dickinson can construct a five-page fight scene that never falters, and then turn around and describe that emotionally charged parental reunion with some tenderness."
Read an excerpt.
Susan Forest's (a Launchpad classmate of mine!) next novel is Flights of Marigold, the sequel to her 2019 novel Bursts of Fire. The seven realms of Shangril have been torn apart by war, and three sisters, Meg, Rennika and Janat Falkyn, the daughters of an imperial magiel have escaped to safety.
Their mother's last wish was for them to try and recover a missing prayer stone that grants their people access to their Gods. But stealing the mythical item is harder than it sounds, and with rebel soldiers after them, they're racing against time to try and get it.
In L. Penelope's Earthsinger Chronicles (which includes Song of Blood & Stone and Whispers of Shadow & Flame), two kingdoms, Elsira and Lagrimar, have been separated for hundreds of years by a magical wall known as the Mantle. Over the course of the series, the Mantle has begun to disintigrate, and in the latest installment of the series, it's fallen completely, prompting the two kingdoms to try and unify.
Citizens of Lagrimari have begun to stream into Elsira, prompting a shadowy group with governmental ties to launch a series of attacks. As the violence escalates, the government launches an investigation, and two unlikely citizens, disgraced socialite Lizvette Nirall, and smuggler Tai Summerhawk, are asked to join the group, and it's up to them to try and stop the next attack. Publishers Weekly says that "Penelope's plotting is intricate as ever and series readers will be will be pleased to return to her fully realized world."
The Living Dead
by George A. Romero and Daniel Kraus
Director George A. Romero will forever be linked to his classic zombie film Night of the Living Dead. He died in 2017, but like one of his creations, he's back for one last zombie story: The Living Dead. The novel is a new take on the genre, set in the modern day, following a wide cast of characters from around the country as a zombie outbreak spreads out of control. Kirkus Reviews calls it a "blockbuster portrayal of the zombie apocalypse and a fitting tribute to the genre's imaginative progenitor."
Read an excerpt here and here. EW also has a good overview on how the book came to be.
Over the years, I've really enjoyed Lavie Tidhar's work — particularly The Violent Century and Unholy Land. (I still need to read Central Station) He likes to play with tropes, upending conventional characters and stories, and his next is an intriguing-sounding take on the King Arthur mythos.
Tidhar puts a gritty edge to the Arthurian legend, portraying Arthur and his companions as gangsters and criminals running drugs and weapons through a London that's been abandoned by Rome. Writing for Locus, Ian Mond writes that "For all its foul language and radical deconstruc­tion, of which I've provided only a taste (you should see what Tidhar does with the Holy Grail), By Force Alone isn't a desecration of the Arthurian romances. Instead, he pays homage to the writers and poets who took their turn in adapting and refining Monmouth's text."
---
August 18th
In this debut novel from Lisbeth Campbell, the city of Karegg is ruled by an iron-fisted King, Karolje. His Queen, Mirantha, vanished long ago, supposedly killed at the hands of an assassin, but everyone knows that he was really responsible for her death.
Things change when a young woman named Anza discovers the missing queen's diary, and is inspired to join a rebellion against the King. But when she meets prince Esvar, who's chafing under his father's brutal rule, he jumps at the change to make a difference by moving against him. It's up to them to try and overthrow Karolje, but any misstep will result in disaster. Publishers Weekly says that "Campbell skillfully balances action and introspection," and that "this competent, character-driven debut may not be splashy, but it is solid."
Zelda Knight and Ekpeki Oghenechovwe Donald edit a new anthology of science fiction by Africans and the African Diaspora. The book contains stories about robots, magicians, ghosts, technology and more. SFF Reviews is reviewing all of the stories in the anthology here, and says that the anthology is excellent.
Marina J. Lostetter continues her Noumenon series (which includes Noumenon, and Noumenon Infinity), in which humanity has begun exploring the larger galaxy beyond our solar system, and has dispatched a generation ship to a mysterious megastructure in the depths of space around a distant star.
Hundreds of thousands of years later, the artificial intelligence known as I.C.C. has reawakened, only to discover something alien wandering through the halls of its starships. It can't be life from Noumenon, so it's up to the AI to try and figure out who its visitors are, and what the planet's designers might have had planned so long ago.
I really enjoyed Emily Tesh's novella Silver in the Wood, about a Wild Man named Tobias who lives in the woods of Greenhollow, and who falls in love with a man named Henry Silver, who's come to live in Greenhollow Hall. In this sequel, Henry has been left behind after Tobias was summoned to the seaside town of Rothport by Henry's mother, folklorest Adela Silver. He's moping at home, missing his lover, and jumps at the chance to join them when they ask for his help to rescue a woman from a vampire.
Publishers Weekly gave the book a starred review, saying that "the creepy supernatural elements are pitch perfect, and the tender, frustrated romance between the dramatic Henry and taciturn Tobias shines."
---
August 25th
For years, I've wanted a Clone Wars anthology. Bantam Spectra did a bunch of them over the years, collecting some of the random short fiction that popped up in magazines, and between 2006 and 2007(ish), Star Wars Insider and Starwars.com published a number of Clone Wars short stories (my favorites were Aaron Allston's "The Pengalan Tradeoff", Timothy Zahn's "Hero of Cartao" trilogy, and Karen Traviss's Omega Squad stories), but never published them in a standalone volume. That's not going to happen now, which is a shame, because there are some neat stories that really aren't accessible.
That version that I've had in my head isn't going to happen, but there is a new Clone Wars anthology coming: Stories of Light and Dark, which takes a bunch of fantastic authors — Rebecca Roanhorse, Yoon Ha Lee, and others — to retell some of the stories from the TV series. I'm really eager read some of these.
Gardner Dozois tragically died in 2018. He's best known as an anthologist, but he was also a well-regarded writer as well. In 1995, he collaborated with writer Michael Swanwick on a novella called The City of God, and had returned to it to expand it into a novel before Dozois passed. Swanwick has an overview of what happened next.
Set in the distant future, God lives just 15 minutes away behind a giant wall. Hanson is a laborer who's toiled away shoveling coal, only to leave the city after a tragedy that he's responsible for. When he escapes, he's able to step through the wall, only to discover that the "gods" have vanished, leaving behind some fantastical technologies.
Karen Osborne makes her novel debut with a futuristic tale of first contact. Ash Jackson is a dying salvage pilot who's been hunting down alien technologies to try and buy her way into a corporate state called Aurora. She ends up discovering a powerful weapon from a long-fought war, and accidentally discovers a corporate plot that could change the balance of power in the universe.
A couple of decades from now, a US-designed bioweapon mutates and goes wildly out of control, threatening life on Earth. Scientists work quickly to try and figure out how to save the human race: genetically engineered children raised by a robotic mother. In the American southwest, a boy named Kai is born and raised by his robotic mother, Rho-Z, who raises him in this strange new world. Eventually, the government decides to destroy the machines, and Kai is forced to make a devastating choice. Kirkus Reviews calls the book "fast-paced plague fiction that weds realism and SF while posing truly profound questions about the nature of motherhood."
We could eventually get a film adaptation of this. Stivers sold the rights to the book to Steven Spielberg's Amblin last year.
Read an excerpt.
---
That's all for today. I'll have another letter out to you next week: a roundup of links and some thoughts on August Cole and P.W. Singer's latest book, Burn-In: A Novel of the Real Robotic Revolution, which came out a couple of months ago.
As always, let me know what books you're interested in, and what you've been reading lately!
Andrew